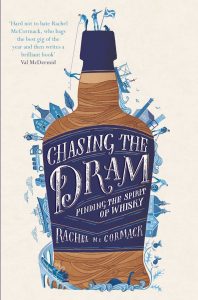 Krysspublisert til drikkelig.no.
På forsiden av min pocketutgave av Chasing the Dram er Val McDermid sitert med «Hard not to hate Rachel McCormack, who bags the best gig of the year and then writes a brilliant book.» Det er vanskelig å være uenig i at dette er en bra «gig», men å kalle boka «brilliant» vil jeg mene er å overdrive. Ikke at den er direkte dårlig, men «ujevn» og «usammenhengende» er ord som faller mer naturlig enn «brilliant».
Det starter ganske bra, med en intro om hvordan og hvorfor som riktignok er litt vimsete, men på en sjarmerende måte. Men etter hvert forsvinner noe av sjarmen med vimseriet.
Boka handler både om whisky og om mat, og noen ganger handler den om whisky og mat, men for det meste er det minimal sammenheng mellom whiskyen og maten. Hvert kapittel inneholder minst en oppskrift, og det er jo vel og bra, men det kunne helt klart vært jobbet litt mer med konseptet. Kapittel 9, for eksempel, From small beginnings…. avsluttes med en oppskrift på «Gigot de la Clinique (Roast Syringed Lamb)» som både har en liten tekst om oppskriftens historie og faktisk benytter whisky i oppskriften, og alt er såre vel med akkurat det. Derimot starter kapittelet med tre sider historie om hvordan Johnnie Walker og andre berømte blends oppsto, før det, midt på side 164, plutselig dukker opp en oppskrift på «Pea and Lettuce Soup» som strekker seg over til midt på side 165 der historien om blends fortsetter som om ingenting har skjedd. Det er rett og slett en veldig merkelig måte å bygge opp en bok på, det er nesten som en form for Tourettes, du må bare ignorere banneordet/oppskriften og late som ingenting og lese videre.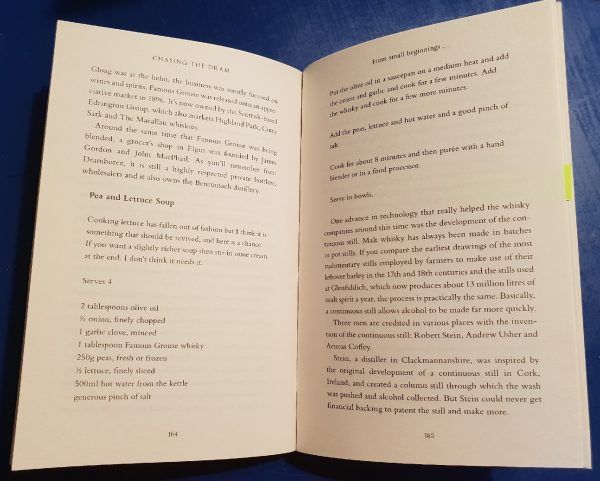 Eller ta begynnelsen av kapittel 12, A Taxing Experience. Først en sjulinjersparagraf om Hebridene og whisky derfra. Så en ny paragraf, en setning, tre linjer, om at ordet whisky stammer fra det skotske uisge beatha. Så blar vi om, og der er det jammen en oppskrift, gitt, riktignok med en trivelig anekdote om McCormacks mor som en slags innledning, men anekdoten har ingenting med whisky eller Hebridene å gjøre, selv om ordene gaelisk og Skottland nevnes. Og rett etter oppskriften begynner det hele å handle om whisky på Hebridene igjen.
På siden etter ertesuppa dukker for øvrig den merkeligste «faktaopplysningen» i boka opp (markert av meg med «?!» under lesing): "The Coffey still is an example of fractional distillation and with this method not only does the process of extracting alchohol from a wash become far quicker, the amount of alcohol you get is greatly increased. A pot still will give you 40-50 per cent alchohol, whereas a Coffey still will produce a liquid that is 80-90 per cent alcohol and a lot faster." (Side 166) Det er muligens bare dårlig forklart, heller enn direkte feil, for det kan godt tenkes at om du blander hode, hjerte og hale fra en potstilldestillasjon ender du med 40-50 prosent I gjennomsnitt, men for det første gjør man jo ikke det og for det andre hopper McCormack glatt over den destillasjonen som skjer mellom wash og spirit still på et maltwhiskydestilleri som bruker potstills, og den destillasjonen gir bare 20-25 % alkohol. *
Innimellom får vi noen riktig gode anekdoter, som forklaringen på hvorfor det finnes ganske store inns på tilsynelatende øde plasser i Skottland: «No one in Scotland could buy a drink in a public place on a Sunday unless they were a bona fide traveller – which meant having travelled a distance of over 20 miles. (…) You can still see large inns in unexpected places in Scotland, and if you look at them on a map, many are just outwith the 20-mile boundary of a big city. They were all places families would drive to in order to have an alcoholic drink." (Side 39) Mange av anekdotene handler til og med delvis om whisky og/eller mat. Men innimellom får vi også noen… Vel, overlange utlegginger om ting som ikke har med noen av delene å gjøre. På side 189 starter det jeg helst vil beskrive som en «rant» om Lanarkshire og Wishaw (der McCormacks far vokste opp) og når jeg tror den endelig er ferdig og vi faktisk skal komme til whiskyrestauranten det egentlig skal handle om får vi en to-siders utlegning om veiarbeid, så først på side 194 kan vi lese om restauranten i Wishaw som har 1300 whiskyer på menyen. (Det hjelper selvsagt ikke på humøret mitt at en av mine pet peeves er folk som kjører bil og klager over veiarbeid. Du vil at veien skal vedlikeholdes, men bare ikke akkurat når DU skal kjøre der?)
Jeg blir langt mildere stemt når McCormack drar til Campbeltown og møter Mark Watt (side 272) og beskriver ham i særdeles flatterende ordelag. Jeg har kjent Mark i femten år eller der omkring og kan ikke annet enn å si meg enig i hvert bidige ord. Får du noen gang sjansen til å gå på en smaking med Mark bør du gripe dem med begge hender.
Senere i samme kapittel nikker jeg gjenkjennende når McCormack beskriver hva slags folk du bør ha med deg på reise:
If you ever decide to go on any kind of road trip where you are dependent on public transport, take friends like Sam, Sheri or Wullie. Their patience and laughter at being cold, or being in a rubbish place, or sleeping on a bench; their ability to turn anything and everything into a joke left me marveling at my good luck in knowing such people. Travel companions can be complicated, but the best are determined to enjoy themselves no matter what and aren't fazed by unexpected weather, travel arrangements or conversations with strangers.
(Side 296.) Jeg har lest dårligere reisebeskrivelser fra Skottland og dårligere tekster om whisky. Det er mye med Chasing the Dram som er bra, og hadde jeg ikke skullet skrive om boka hadde jeg kanskje lettere oversett det negative. Dessverre skulle jeg jo det, så jeg ble sittende og irritere meg over springende narrativ og oppskriftstourette. Sistnevnte er jeg forresten ikke helt ferdig med, for vet du hva det verste er? Det finnes ingen indeks eller innholdsfortegnelse som forteller deg hvor oppskriftene finnes. Den dagen du finner ut at du skal teste McCormacks oppskrift på Pakora, si, ja da må du bare pent bla deg gjennom bokas 313 sider til du finner den. (Ja, ikke jeg da, for jeg var lur nok til å markere den siden med en Post-it.) Så, styr ikke unna, nødvendigvis, men utstyr deg med Post-its og en porsjon velvilje, så kan du få en helt ok leseopplevelse. Tror jeg.
__________________________
* Om du ikke kan noe om maltwhiskydestillasjon og har lyst til å lære mer kan jeg anbefale å lese min egen whiskyskole, del 4, som nettopp handler om hvordan maltwhisky lages.