Phew. Jeg burde vite bedre enn å starte på sånt, men nå er jeg i alle fall ferdig med versjon 1.0 av Det Store Regnearket. Som jeg skrev i Regneark og Regexp tok jeg utgangspunkt i Elida sin vedlikeholdte liste og splittet ut forfatter, tittel og årstall derfra. Så gikk jeg på leit etter måter å få inn mer info litt sånn automagisk. Jeg fant en versjon av lista med nasjonalitet, og merget inn den og ved hjelp av eksportfunksjonen til Goodreads fikk jeg også lagt til sidetall (ikke helt uten egeninnsats, skal det sies). Men det var fortsatt data jeg savnet, først og fremst hvor handlingen i boka finner sted og hvorvidt forfatteren faller i en annen gruppe enn "gamle hvite menn"*. Det endte jeg med å gjøre manuelt, ved å gå inn på hver enkelt bok (der jeg ikke allerede visste svaret) på Goodreads. Det tok litt tid, men når jeg først begynner med slikt blir jeg gjerne litt oppslukt.
Med tillegg (det vil si revisjoner, men Elida har ikke fjernet bøker, og det har ikke jeg sett noen grunn til heller) er listen på 1317 bøker. Selv om vi tar utgangspunkt i at jeg allerede har lest rundt 10 % av dem må jeg lese 30 bøker fra denne lista i året de neste 40 årene for å komme gjennom alle. Det er et lite sannsynlig scenario, for å være ærlig, så det må prioriteringer til. Jeg har i flere år hatt som generell målsetning å lese bredere, så derfor kommer jeg til å prioritere bøker fra 1001-lista skrevet av kvinner og minoriteter, og aller helst de med opphav utenfor Europa og Nord-Amerika. Og det blir langt lettere når jeg har informasjonen lett tilgjengelig. Det er ikke sånn at jeg kommer til å gå tom for lesestoff med det første likevel.

A propos gamle hvite menn, jeg vurderer sterkt å kjøpe meg en slik t-skjorte: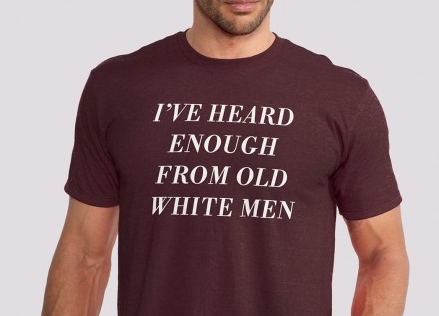 (Jeg fant for øvrig den ved å google etter å ha lest denne historien som dukket opp i Facebook-feeden min. Folk.)
Tilbake til regnearket. Alle radene har fått en id, bok 1-1310 er fra Elidas liste, de siste sju kom inn fra 1001 Books You Must Read Before You Die lista på Goodreads (etter at jeg hadde lukt bort de som har blitt lagt til på den av forfattere eller andre som synes det er en god måte å promotere bøker på. Igjen: Folk.). Uten tilgang til alle utgavene av Peter Boxalls bok får jeg ikke sjekket hvorvidt de egentlig hører til eller ikke, så jeg lar tvilen komme dem til gode.
Så har jeg kolonner som er ment for meg (eller deg, om du vil laste ned en kopi): Own, Read, Year first read, Date read, Seen film version og My Rating (sistnevnte ble med på Goodreads-eksporten, så jeg beholdt den). Stort sett selvforklarende, kanskje med unntak av Seen film version som jeg har med fordi jeg vet at min lesing av en bok blir farget av filmen om jeg har sett den først, så om jeg har sett filmen blir boka nedprioritert (dessverre?).
Deretter følger kolonnene for data om boka:
Published – årstall
Author
Title
# Pages – fra Goodreads, gjelder selvsagt en enkelt utgivelse av boka, så det kan variere avhengig av hvilken utgave du sitter med, men det gir en pekepinn
Nationality – forfatterens, hovedsakelig basert på fødeland, men supplert dersom hen har emigrert f.eks.
Period –  hentet fra regnearket jeg fant, basert på publiseringsår
Original title – jeg har sikkert glippet på noen rader, men tittel på orginalspråket (eller førsteutgaven i noen tilfeller for engelske bøker der tidlige utgaver har veldig lange titler) hentet fra Goodreads
Original language
Set in – forsøksvis kategorisert til land. Ved to-tre land er alle tatt med med / mellom, ved flere er en mer generell kategori brukt (Europe, f.eks.). Der det er irrelevant/umulig å definere et fysisk sted er – satt inn.
Gender – etter beste evne
Identity markers – (rop ut om du har bedre forslag til heading på denne…) andre identiteter enn hvit cishet, også etter beste evne. POC (person of colour) er kanskje den som var vanskeligst å definere, og flere av de latinamerikanske forfatterne har ikke fått den betegnelsen selv om de  kanskje egentlig burde. Ellers har jeg brukt Jewish og LGBT+, og i noen få tilfeller Mental illness.
Series – det er jo greit å vite om en bok er en del av en serie. Noen ble med på Goodreads eksporten, noen ikke, av en eller annen grunn. Jeg har lagt til de jeg oppdaget at manglet, men oversikten er neppe komplett.
Til slutt er det noen "kjekt å ha"-kolonner. Ett sett kolonner som viser hvilken utgave av Boxhalls liste boka dukket opp i, forfatternavn på format "etternavn, fornavn mellomnavn" for sortering på etternavn, ISBN og ISBN13 til utgaven i Goodreads-lista og gjennomsnittlig poeng (av fem) på Goodreads.
I fane to har jeg laget noen kjappe statistikk-oversikter, til venstre de som går på hva jeg selv har lest, til høyre generell statistikk over utvalget på lista. Og i fane tre finner du grafer basert på statistikken i fane to.
Her er lenken til regnearket. Jeg bruker Google Sheets, men du skal kunne laste ned en versjon som kan åpnes i Excel. Det blir sikkert noen oppdateringer etter hvert, i så fall skal jeg forsøke å legge en oversikt over hva jeg har oppdatert i en fjerde fane…
________________
* Ikke alle de "gamle hvite mennene" er gamle, eller var gamle når boka ble skrevet. Det er bare en nyttig bøtte for å samle de som har karakteristikker som historisk har beskrevet en "typisk forfatter". Eller "forfatter" om du vil, de som ikke vanligvis får en merkelapp klistret på seg, slik "kvinnelig forfatter" og "farget forfatter" gjerne fortsatt blir omtalt.