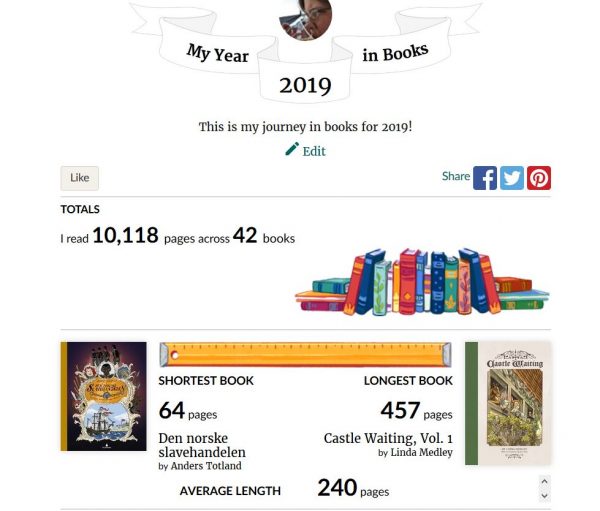 Vi skriver 2020, og alle håp om å kunne ta igjen det tapte i 2019 er ute. 2019 ble et særdeles dårlig leseår for meg, i følge Goodreads endte jeg på 42 bøker. Og selv om 42 er et særdeles fint tall er det mindre enn en bok i uka i gjennomsnitt. Det tror jeg muligens er det dårligste noensinne siden jeg lærte å lese selv for nesten 40 år siden.

Så hvorfor har jeg ikke lest mer? Vel, det enkle svaret er vel at bøker jevnt over ikke har fenget nok til at jeg har hatt lyst til å lese. I perioder har jeg lest i (for meg) normalt tempo, det vil si en bok på maks et par dager, men i perioder har jeg lest… ingenting… eller kanskje et par sider før jeg har lagt fra meg boka og funnet på noe annet.
Bok365 har hatt en serie med tips for hvordan oppnå 10, 25, 50 og 150 bøker i 2020, og det av de "strekkmålene" jeg har sett delt suverent flest ganger de siste dagene er 25. Det er mager trøst at mitt elendige resultat er bedre enn landsgjennomsnittet på 17 bøker i året (i alle fall i følge siste tilgjengelige tall, fra Leserundersøkelsen 2018). Delvis fordi jeg faktisk synes at landsgjennomsnittet er begredelig. Hvordan kan vi bli et opplyst sammfunn på den måten? Og hva går ikke mine landsmenn glipp av av sjelsettende opplevelser, erfaringer, kunnskap og underholdning?
Og delvis fordi jeg gjennom et langt liv har definert meg som et lesende menneske. Jeg har identifisert meg tungt med dette sitatet fra The Brontes Went to Woolworth by Rachel Ferguson:
A woman at one of mother's parties once said to me, «Do you like reading?» which smote us all to silence, for how could one tell her that books are like having a bath or sleeping, or eating bread – absolute necessities which one never thinks of in terms of appreciation.
I read, therefore I am, om du vil. Så hvem er jeg hvis jeg ikke leser? (Ok, vi er ikke helt der ennå, men…) Man kan få eksistensiell angst av mindre.
Så er mindre enn en bok i uka den nye normalen min? Vi får se. Jeg har ufortrødent satt 80 bøker som mål for 2020 også. Om jeg får lese-mojoen tilbake er det ikke noe urealistisk mål, selv om det altså er nesten nøyaktig dobbelt så mange bøker som jeg faktisk kom gjennom i fjor. Wish me luck. Og send gjerne noe leselyststøv i min retning om du har noe til overs.
Men litt statistikk kan vi vel kjøre likevel?
36 % menn mot 60 % kvinner (de siste prosentene er "both") er jo ikke så ille om målsetningen var færre "gamle hvite menn", verre står det til med de andre mangfoldskategoriene… Bare 10 % ikke-hvite forfattere, bare 5 % bøker med LGBT+ personer i persongalleriet og bare 1 eneste bok skrevet av en forfatter som ikke er fra Europa, Nord-Amerika eller er hvit australer (som vel kan gå for det samme).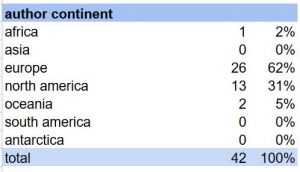 36 % gjenlesing mot 64 % nye bøker er jeg greit fornøyd med, men konstanterer at jeg pga "comfort reading" (dvs gjenlesing av favoritter når jeg er syk) faktisk klarte å lese Dragonsinger, Dragonsong og Dragondrums to ganger i 2019. Så i realiteten har jeg lest bare 39 bøker i 2019 om kriteriet skal være forskjellige bøker.
Utfordringer og lesesirkler har det naturligvis også blitt så som så med. Hadde jeg skjerpet meg på bloggfronten kunne jeg klokket inn minst en runde i biolesesirkelen, men 1001-bøker har det vel ikke blitt noen av. I 2020 tror jeg jeg skal konsentrere meg om de generelle målene: Færre gamle hvite menn (/kvinner) og prøve å få blogget om… vel… en del av bøkene i alle fall. Jeg kommer til å lagre ny versjon av regnearket mitt og gjenbruke det i år, men Portal in the Pages har publisert en versjon for 2020, så jeg anbefaler å sjekke det om du også er interessert i litt oversikt i lesingen.
Edit: En annen ting jeg har vært dårlig på i 2019 er å følge opp regneark, Goodreads og andre lister fortløpende. Nå når jeg har gått gjennom Bøker lest 2019-innlegget oppdaget jeg tre bøker jeg ikke hadde ført: Leiligheten, En frivillig død og Intet nytt fra hjemmefronten. Så da er jeg oppe i 45. Hvem vet, kanskje har jeg glemt fler? Nyttårsforsett må da i alle fall være å huske å notere alt jeg leser fortløpende…