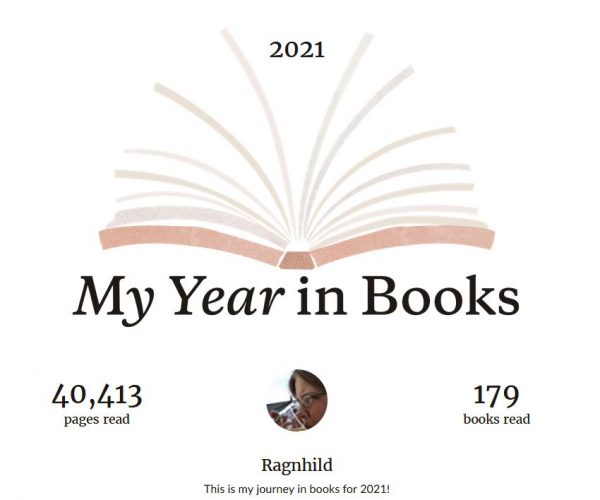 Med 140 leste bøker i 2020 trodde jeg kanskje jeg hadde nådd en slags topp, og satt det jeg antok var et litt optimistisk mål på 100 bøker i 2021. I sommer, når jeg allerede hadde nådd det målet, oppjusterte jeg til 180. Det tallet glapp med et nødskrik, jeg hadde rundt femti sider igjen av The Skies of Pern når klokka slo midnatt 31. desember. Men det er ikke viktig. 179 bøker lest i fjor, over 40.000 sider (ti tusen mer enn i 2020!). Ok, så er en del av dem korte – Tegnehannes julehefte, for eksempel – men siden gjennomsnittet i følge Goodreads er på 225 sider snakker vi fortsatt en god del «ordentlige» bøker lest.
Andelen gjenlesing ligger hakket høyere enn året før, på 37 %, men siden jeg freste gjennom hele Malory Towers, St. Claires og Trebizon i vår en gang er kanskje ikke det så rart, det gir uttelling på antall bøker (teller vi i stedet sider er gjenlesingsprosenten på 33).
20 % menn, 69 % damer, 7 % «begge» og 4 % «queer» er ingen forbedring fra i fjor. Det vil si, jeg har lest en enda mindre andel menn. Det er jo faktisk et mål i seg selv. 87 % hvite og 13 % ikke-hvite er ikke imponerende, men igjen har gjenlesingen vært dominert av hvite forfattere, så statistikken for nye (for meg) bøker er en smule bedre. I år har jeg også en kolonne i regnearket som jeg har kalt «Other diversity markers», men jeg innser jeg burde hatt en enkel «ikke-BIPOC cis-het abled» ja/nei-kolonne også i tillegg til muligheten for å skrive inn f.eks. «same» eller «rullestolbruker», så der blir statistikken mer givende for 2022 håper jeg.
Den geografiske fordelingen er det også rom for forbedring på: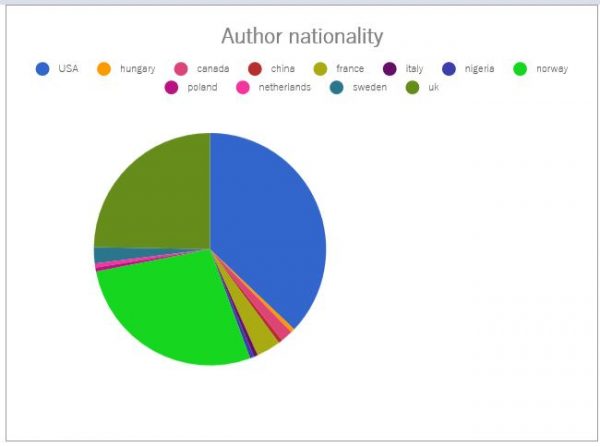 Vi får se hva jeg kan få gravd fram fra Mt TBR.
Målet på Goodreads for 2022 har jeg satt til 100 igjen. Det er egentlig sånn passe, tenker jeg, men så lenge leselysten holder seg har jeg tenkt å lese…