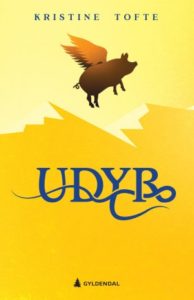 Det er over en måned siden jeg leste ferdig Udyr av Kristine Tofte, men blogginga har visst latt vente på seg. Vel, boka havnet (yay!) på kortlista til Bokbloggerprisen i kategorien Barn og ungdom, og fra 15. mars til 15. april er det offisiell samlesing, så da var det vel på tide å få knotet ned noen ord?
Jeg tok en lang pause midt i lesingen av Udyr, uten at det nødvendigvis var med vilje eller kan sies å ha vært boka sin feil. Jeg slet som tidligere nevnt med lesingen generelt i 2019, og det er ikke den eneste boka som ble liggende halvlest til tross for at jeg egentlig ville lese videre. I begynnelsen av februar tok jeg meg sammen og når jeg først begynte på igjen var boka plutselig utlest på en kveld.
Amund er skolelei, rastløs og uregjerlig. Så får han tilbud om praksisplass på en gård i nærheten, og uten at han egentlig har fått summet seg og funnet ut hva han synes om det har klasseforstanderen og foreldrene blitt enige om at han skal møte opp på Bru gård fredag morgen. Det gjør Amund, og så fort han har ankommet sier bonden, Agnar Bru, Sayonara! (så og si) og stikker "på ferie". Så der står Amund med ansvaret for både en ku, en okse, tre griser, noen hester, geiter, katter og høns. Og Amund som ikke er spesielt glad i dyr en gang. Glad i dyr, det er derimot Ida fra klassen hans, hun får vite at Amund er på en gård helt alene og sykler dit for å undersøke. Og godt er det, for det viser seg at dyrene på Bru gård slett ikke er som andre dyr, og Amund trenger den hjelpen han kan få. På Bru gård bor nemlig dyrene til de gamle norrøne gudene, og Odin og Loke har – som de har for vane å gjøre – veddet om utfallet når vokteren Agnar nå har overlatt roret til en "blodfersk guttunge".
"Ja, selvsagt", sa Odin. "Men vi har det ikke travelt. Jeg og Loke har inngått et veddemål, skjønner du. Og nå må tingene få spille seg ut, for å se hvem som vinner. Eller, det er ikke helt sånn, selvsagt. For jeg vinner jo."
(Side 154.)
Loke har oppildnet en predikant i en lokal kristen sekt (der Idas foreldre er medlem) til kamp mot de hedenske kreftene, og det ligger an til en alt annet enn rolig helg på landet.
"Er du skuffet over gudene, Agnar Bru?"
Ingenting gikk den fyren hus forbi.
"Jeg vet ikke, skuffet, det er vel, jeg, ja, jeg vet ikke hva jeg skal si", sa Agnar.
"Der har du menneskeheten", sa Odin og smilte. "Kronisk skuffet over gudene. Korte liv. Veldig mye følelser. Og så er dere fryktelig kveldstrøtte."
"Ja, ja", sa Agnar.
"Du skal få lov til å gå og legge deg nå", sa Odin og gjorde en raus bevegelse med hånden.
"Du", sa Agnar forsiktig. "Er det ingen som har veddet på at guttungen kommer til å være den som fikser alt?"
Odin lo. "Nei, selvsagt ikke. Gudedyr mot en ussel flokk jesusdyrkere. Og så en blodfersk guttunge. Det får være måte på hvor dårlige odds man gidder å vedde med."
"Da gjør jeg det", sa Agnar Bru alvorlig. "Jeg vedder på Amund."
(Side 156.)
Udyr inneholder mye av det jeg liker aller best i fantasy-sjangeren. Ideen om at de gamle gudene ikke forsvinner bare fordi de blir glemt, men lever midt i blant oss så og si, er grunnlaget for to av mine… topp 10 (? Vel, la meg si topp 100 i alle fall) bøker noen sinne (American Gods av Neil Gaiman og The Long Dark Tea-time of the Soul av Douglas Adams), og premisset i Udyr er vel så orginalt og gjennomføringen såpass god at jeg blir sjarmert i senk.
Samspillet mellom Amund og Ida er noe av det som bærer historien. Idas oppvekst i en kristenkonservativ ramme er kanskje ikke vanligvis det beste grunnlaget for å bli de norrøne gudedyrenes forkjemper, men i Ida bor det ting hverken foreldrene eller noen andre har sett eller drømt om.
Det var en ting som hadde skjedd i dag, som var finere enn alt det andre. Alt det rare og merkelige, alt det spennende og sinnssyke.
Amund hadde sagt men les da, og han hadde sagt finn ut av ting!
Ida hadde sett opp på ham for å sjekke om han var spydig, om han bare tullet med henne. Men han mente det virkelig. Han var utålmodig og ivrig. Han ville at hun skulle lese, at hun skulle være smart, at hun skulle finne ut av ting.
Det hadde aldri noen villet før. Ikke sånn. Lærerne ville jo at hun skulle være flink på skolen, og mamma og pappa syntes også det var helt fint at hun fikk greie karakterer. Lærerne, særlig norsklæreren, oppmuntret henne til å lese og finne ut av ting. Men det var jo bare jobben hennes, hun skulle liksom si sånt til alle. Ingen trodde egentlig hun fikk det til. Foreldrene likte best at hun var sånn passelig, gjorde det hun fikk beskjed om. Ikke gjorde for mye ut av seg. De tingene hun likte å lese, var ikke lekser. De bøkene hun leste på biblioteket var syndige og feil, hun visste jo det.
Men Amund mente det han hadde sagt. Helt på ordentlig. Han ville det virkelig. Ikke fordi hun skulle være flink jente, for at hun skulle være lydig, men fordi han trodde hun kunne fikse det. Bare trodde det. At hun kunne finne ut av viktige ting på egen hånd. Ved å lese.
(Side 158-159.)
Gleden ved å lese for å lære gjør at jeg kjenner meg igjen i Ida, selv om bakgrunnen vår er helt forskjellig, og at hun indirekte kommer inn på janteloven som eksisterer i norske klasserom gjør nok at jeg heier litt ekstra hardt på ungdommene.
"Tror du karakterene mine er veldig dårlige?"
"Eh, ja? Du… sier jo ikke noe på skolen, liksom. Og gjemmer prøvene dine når venninne dine sitter og klager over firere."
"Så da tenker du at jeg får… treere?"
"Ja."
Ida trakk på skuldrene igjen.
"Det er jo dårlige karakterer som er flaut", sa han.
"Nei…" sa Ida.
Han så på henne.
Pen. Modig. Og smart? Hun skulle nok fikse alt på Bru gård, hun.
"Men drit i det", sa Ida. "Vi har større problemer enn sekserne mine."
"Ja", sa Amund. "Men greit å vite at du plutselig er smart, liksom. Tipper vi kan bruke det til noe."
(Side 250.)
Det er heller ikke akkurat negativt at Udyr er en morsom bok. Ikke helt "latteranfall på bussen"-morsom, kanskje, men definitivt "trekke på smilebåndet og småhumre litt jevnlig"-morsom.
Det er (uungåelig?) ikke helt fritt for ungdomsforelskelse. Det var vel den delen av boka som appellerte minst til mitt 45-år gamle jeg. Hadde jeg vært 15 hadde låta vært en annen så jeg kan uten problemer tilgi Tofte det. Stipendiat Gro Mandam, som er i ferd med å innse at det hun har forsket på i lang tid og som skulle være grunnlag for både doktorgrad og nobelpris (ambisjonene står det ikke på) snarere viser seg å være… null og niks, finner et eple fra Bru gård i arkivene og dukker også opp på gården midt i det hele. Hun uttrykker nok mine følelser på akkurat det området bedre enn tenåringene:
"Herregud", sa Gro. "Jeg hadde virkelig ikke orket å være femten igjen. Har vi reddet verden nå?"
(Side 307.)
Om du ikke har forstått det allerede: Jeg anbefaler Udyr på det varmeste.
I november var jeg i Oslo noen dager. Udyr lå hjemme halvlest, men jeg oppdaget at Kristine Tofte skulle signere boka hos Outland i Kirkegata en av dagene, og da måtte jeg jo benytte sjansen og sikre meg et signert eksemplar. Dermed har jeg faktisk to eksemplarer av boka, og siden det over det ganske land sitter potensielle lesere i isolasjon, karantene eller en eller annen grad av sosial distansering passer det vel med en giveaway? For ordens skyld er det altså den usignerte kopien jeg gir bort, og siden det var den jeg hadde begynt på er den (pent) lest en gang. Om vi sier trekning søndag 5., så kan den kanskje komme frem til ny eier før skjærtorsdag til og med, påskegul og fin som den er. Kommentar under her er ett lodd, kommentar på hhv Facebook og Instagram gir også lodd. Og del gjerne 🙂
Boka er trukket, vinner ble Leseverden som kommenterte på Instagram.
Jeg har kjøpt begge eksemplarene sjøl.