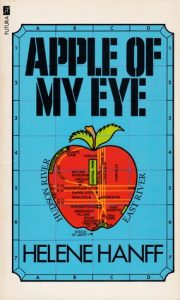 After rereading 84 Charing Cross Road and the rest of the Hanff books I owned my next step was to hit Abebooks and order the ones I could find that I didn't already own (as well as a better copy of 84). Consequently, I read Letter from New York for the first time before Christmas and my first read of this year (not counting the fifty-odd pages I had left of The Skies of Pern at midnight New Years Eve) was Apple of My Eye.
Both books are about New York, Hanff's adopted city. Of the two, I much prefer the latter. Though I gave them both three stars out of five, Letter from New York is borderline from two, whereas for Apple of My Eye I considered a four. The main difference is perhaps that whereas the first is a collection of columns written for Woman's Hour and thus has no cohesive plotline (if plotline is the right word for a non-fiction book), Apple of My Eye certainly does. It's a matter of taste entirely, but an overarching story just suits me better.
That overarching story is that Hanff has been hired to write copy for a book of photographs of New York meant for tourists. Easy, right, it's her home after all? Well. as with so many of us, it turns out she hasn't necessarily visited the tourist attractions. So she sets out to visit them, with her friend Patsy. Initially Patsy is just going to join her for the trip to the Statue of Liberty, but she eventually tags along for the whole thing, spread out over a couple of months. The only big question I'm left with is «what happened to the photographs»? Because this book doesn't have any, and the text as is wouldn't work as copy for a book of photos anyway. An afterword explaining whether there ever was a book of photographs and how this book came to be would have been nice, but it's a minor thing.
If I ever get around to visiting New York – which IS on my bucket list, but not very near the top – I'm going to bring this book and try to copy some of Hanff's outings. Not all of them can be copied, though. It was a weird experience reading the chapter where they visit the World Trade Center, and all the other mentions of the centre or the twin towers in the book. I mean, with the hindsight of twenty-years-since-9/11, doesn't reading this make you… I don't know… uncomfortable?
Throughout its construction, the World Trade Center was cordially detested by all New Yorkers. The unpopular Rockefeller brothers were so closely involved in the financing that for a while the twin towers were known as Nelson and David; the giant buildings are owned by the even more unpopular Port Authority, which wasn't created to build and own huge office towers. Plus which, the financially desperate city didn't need two new 110-story office buildings and couldn't afford to supply them with services. (Page 29.)
All said, though, it was a pleasant read, making me think more seriously about actually visiting New York than I have in years (at least since 2016, when I vowed to stay out of the USA until the orange guy was out of office, and probably since 9/11 and «The War on Terror»).
A funny side note: My copy has a newspaper clipping pasted into the back of it (appropriate, what with all the clippings Patsy comes up with throughout the book), which includes a portrait of Helene Hanff. I don't think I've ever seen an actual picture of her before. Anyway, I was for some moments confused because she didn't look anything like Anne Bancroft. Duh.
Boka har jeg kjøpt sjøl.