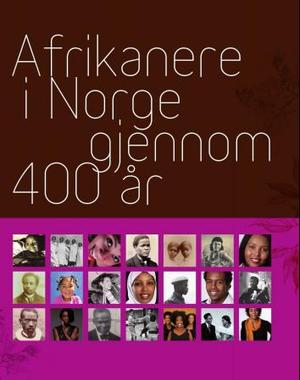 Når BLM-bokanbefalingene fløy som tettest i juni noterte jeg meg flere titler fra tips på Twitter, og jeg tror det var @mohamabd86 som anbefalte Afrikanere i Norge gjennom 400 år. Boka ble reservert på biblioteket og dukket kjapt opp, men ble ikke like kjapt lest, og noe av årsaken til det er formatet. Jeg har en del å si om format og design på denne boka, men vi tar det til slutt, først litt om innholdet.
Afrikanere i Norge gjennom 400 år er en samling artikler som alle omhandler folk med afrikansk herkomst (i nær fortid, altså, ikke som i "menneskehetens stammor kom fra Afrika") som har hatt tilknytning til Norge på et eller annet vis. Vi får lære om Olav Joleik, f.1907, sønn av Albert og Wanga, som Albert traff mens han var offiser i Kongo. Albert tok med seg Olav hjem etter endt opphold og han vokste opp i Norge, uten moren, som ble igjen i Kongo. Vi hører om studenter ved Misjonshøgskolen i Stavanger og om Christian Hansen Ernst, som var tjener hos Ulrik Frederik Gyldenløve (kongens stadtholder i Norge 1664-1699) og senere postmester i Kragerø 1681(?)-1694. Og vi får historiene til noen av de artistene som underholdt oss i det 20. århundre, for eksempel Edward Montgomery som ble fengslet under krigen og blant annet satt på Grini, og Pete Brown som i følge Wikipedia var "kjent som en av swingjazz-æraens fremste i Norge".
Det er interessant lesing, og det er uten tvil historier som i større grad burde vært dratt fram i lyset, både fordi de er verdt å høre i seg selv og fordi de hjelper til å slå beina under forestillingen av at Norge ikke ble "multi-etnisk" før i min levetid (jeg er født i 1974, om noen lurer). De fleste av menneskene boka forteller om kunne fortjent en egen biografi. Dessverre er det nok i mange tilfeller vanskelig, om ikke umulig, da kilder er nesten ikke-eksisterende eller bare nevner folk i forbifarten så og si. Lokalhistorikere har hatt mye å si for kunnskapen vi har om Norge generelt, men ingen kan fokusere på alt, og hva de har fokusert på er neppe helt tilfeldig. Lokalhistorie er i sin natur lokalpatriotisk, og lokalpatriotisme er lillebroren til nasjonalpatriotisme, eller nasjonalisme, om du vil. Ofte en kilde til positive bidrag i samfunnet, men vel så ofte en negativ, ekskluderende kraft. Som Ida Tolgensbakk Vedeld og Ola Alsvik poengterer i artikkelen "«Den glade vitenskap» – også for de mobile?" (side 22):
Men nasjonsbygging tar ikke slutt med opprettelsen av en grunnlov. Kollektiv identitet er en kontinuerlig pågående prosess. Hvem er innenfor, og hvem er utenfor? Hva som er den synlige historien, den som skrives ned slik at den kan tas fram også i framtida, den som får autoritet framfor andre, er ikke tilfeldig. Det kan for eksempel ikke være noen tvil om at enkelte grupper og deler av samfunnet har vist svært lite interesse for å ivareta historien om den afrikanske tilstedeværelsen i Norge.
Boka er utgitt i 2011, og beviser vel bare at den diskusjonen om systemisk rasisme i Norge som skjøt fart i år egentlig er på overtid, og vel så det. I artikkelen "En ny, men også gammel fleretninsk nasjon" (side 7) skriver Thomas Hylland Eriksen:
Når dagens mennesker i dette landet leser om (…) den uheldige Kola Mangoli som ble behandlet som en museumsgjenstand i et borgerlig Kristiania-hjem, grøsser vi en liten smule og tenker kanskje at det er godt at verden går fremover. Spørsmålet som sjelden blir stilt, er om verden nå egentlig har gått noe særlig fremover, eller om vi bare har utviklet et nytt språk for å snakke om de samme maktforskjellene som eksisterte for hundre år siden. Det er i denne sammenheng nødvendig å nevne at den mest stigmatiserte minoritetsgruppen i Norge for tiden er den somaliske, som foruten å være svart også er muslimsk.
At afrikanere har blitt behandlet som severdigheter og forlystelsesskue burde strengt tatt ikke komme som noen nyhet om man har fulgt med i timen, men det er likevel forstemmende å lese om utbredelsen av fenomenet. I artikkelen "Afrikanere på utstilling og i sirkus" minner Herman Berthelsen oss på at rasismen ikke diskriminerer (ironisk nok), både afrikanere og samer ble ansett som eksotiske nok til å "fortjene" å bli utstilt (side 12).
Slike utstillinger av en samling eksotiske mennesker hadde mange navn, og «folkekaravane» van den vanligste, men også «zoo-antropologiske utstillinger», «etnologisk utstilling» eller bare «fremmede folk» ble brukt. (Det hører med til historien at også samer ble vist fram i både Christiania og i London!)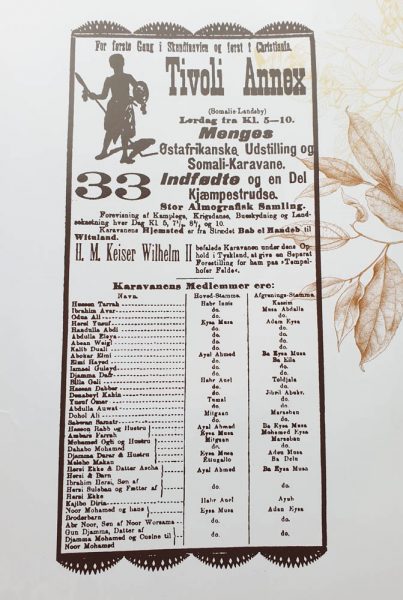 Positiv rasisme er også rasisme. At folk av afrikansk herkomst alle har rytmesans og er flinke i basket er like mye en generalisering som understreker motsetningene mellom dem og oss. Noe sitatet Yacoub Cissé tar med i artikkelen om Edward Montgomery, "Grini-fange nr. 4963" (for øvrig også publisert i Utrop) illustrerer på brutalt vis (side 40):
Og etter showene på Casino teater i Oslo i september 1926 skrev en begeistret norsk anmelder: «I 1926, da Oslos gamle Opera for længst var nedlagt, kom sorte vildmæn og tok de hvites operabygning i besiddelse… Selv en racehygieniker maa imidlertid gi sig over og medgi at 'Black People' har en sans for rytmer, farver og humør, som virker besnærende.» Dette sitatet sier mye om tidsånden i mellomkrigstiden. Rasehygiene var en akseptert vitenskap, og det var vanlig å lese i dagspressen om forskjellene mellom rasene, det være seg tatere, svarte eller andre minoriteter.
Jevnt over er artiklene i boka god lesning, selv om de bærer preg av varierende grad av det jeg av mangel på bedre ord vil kalle profesjonalitet i skribentyrket (jeg vil anta at en del av bidragsyterne slett ikke er "skribenter" av yrke). Noen av tekstene gir meg litt skolestil-vibber, men majoriteten er på høyde med det du ville funnet i en hvilken som helst samling artikler fra samfunnsvitenskapelige miljøer. Av og til skulle jeg ønsket meg en strengere redaktør, hen kunne for eksempel påpekt tankefeilen i setningen "Siden Frederik Ludvig Anthony kom uten sin mor til Danmark, må hun ha trodd at han ville få et bedre liv der enn på St Croix" i artikkelen "Familien Anthony" (side 52). Da moren til Frederik Ludvig Anthony – og han selv også – var slave mistenker jeg at hun hadde fint lite hun skulle ha sagt om hvor gutten skulle reise og med hvem. Men basert på det tekstlige innholdet vil jeg definitivt anbefale boka.
Så var det format og design, da. Boka er tynn, bare 80 sider, men til gjengjeld er den i "coffee table book" format. Større enn A4. Her er den sammen med Black and British, som jeg også er i gang med å lese og som er i "normalt" paperback-format: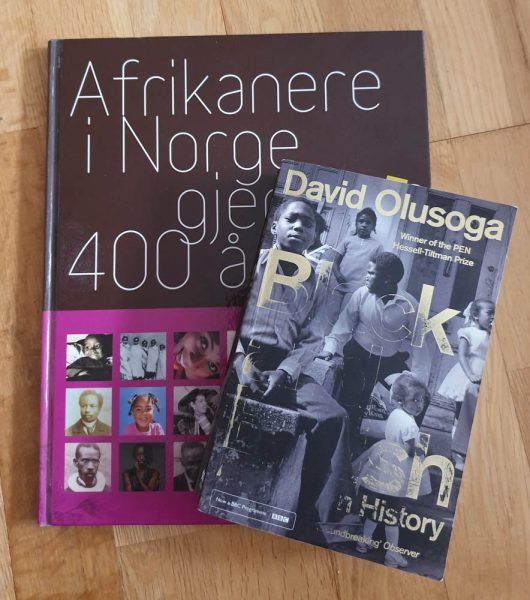 Det har flere konsekvenser. For det første gjør det den litt uhåndterlig. Det er ikke en bok du tar med i veska for å lese på bussen. For det andre hadde jeg aldri funnet den tilfeldig i bokhandelen/på biblioteket, da den av nødvendighet må stå på en helt annen hylle enn de sakprosabøkene jeg vanligvis leser. Dessuten gjør det selvsagt noe med måten tekstene formateres. Mange av artiklene er trykket med to kolonner per bokside, men ikke alle, og disse er spesielt uleselige da linjene blir ALT for lange. En uhyrlig liten fontstørrelse hjelper ikke. Igjen sammenlignet med Black and British: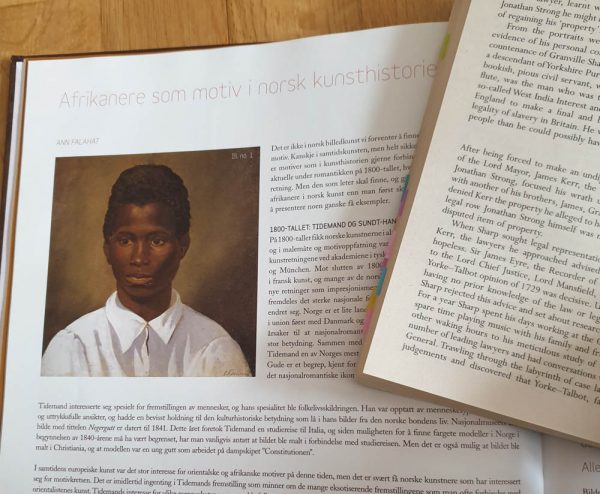 Det er ikke mange punkts forskjell, kanskje to? Men når man legger til at Afrikanere i Norge er så stor at den nærmest må ligge på fanget når man leser den gjør det at mine øyne sliter, selv med korrekt kalibrerte briller.
Deler av teksten er uthevet og med annen font og farge enn resten, slik det ofte gjøres i magasinartikler. Hvilket jo er greit, men man kunne kanskje valgt en farge som ikke blir usynlig i lampelys på glanset papir?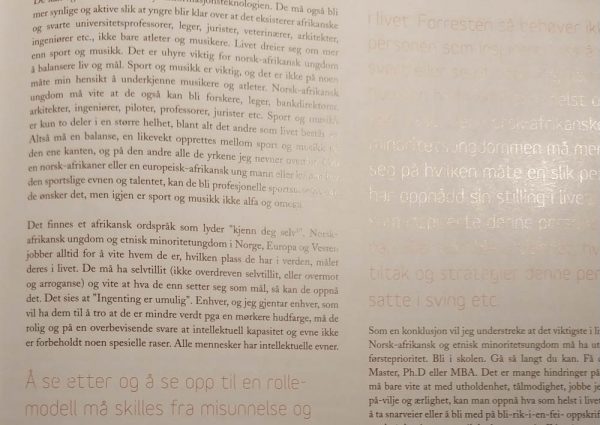 Jeg er vel ikke heller overveldende imponert over designprosessen som ledet til bruk av tilfeldige grafiske elementer som dekor hist og pist gjennom boka. Jeg har drevet med scrapbooking, både fysisk og digitalt, og dette er i grunn et slett eksempel på bruk av irrelevante elementer som trekker oppmerksomheten bort fra bildet i stedet for å understøtte bilde og tekst:
Kort sagt: Jeg skulle ønske Afrikanere i Norge gjennom 400 år ble utgitt i ny utgave. Gjerne med en grundig revidering av tekstene, men først og fremst med en restart av hele prosessen som ledet fra "samling tekster og bilder" til "ferdig bok". Først og fremst krymper vi formatet til normal størrelse på bok-det-faktisk-er-meningen-at-du-skal-lese. Så trykker vi alle tekstene på vanlig, matt papir i en fontstørrelse man ikke trenger lupe for å tyde. Bildene samler vi heller i bolker på glanset papir på 2-4 steder i boka, normal praksis i utforming av bøker-som-skal-leses med fotoillustrasjoner.
I mellomtiden får vi jo bare ta til takke med boka som den er, og er du interessert i å bidra til å bekjempe rasisme på hjemmebane her i Norge (og det bør du jo være) synes jeg absolutt dette er en bok du burde lese.