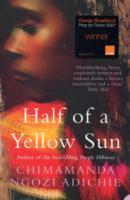 Last month's reading circle book was Chimamanda Ngozi Adichie's Half of a Yellow Sun. I was late as usual, so I had to read the last 100 pages or so after the discussion, but had skimmed (very, very quickly) on my way there.
Adichie writes a story full of warmth and detail from a country and a conflict I know very little about. The story is varyingly narrated from the viewpoint of Ugwu, Olanna and Richard, which keeps the narrative interesting and helps highlight both the differences and the similarities in their experience.
Our first meeting with Ugwu, and with the story, is when he arrives with his aunt to take up the position as houseboy to Odenigbo, who is a professor at the University of Nsukka, politically vocal and Olannas boyfriend. Ugwu is awkward at first, but blossoms under the tutelage of Odenigbo and Olanna, who practice what they preach by making sure he goes to school despite being «just a houseboy».
Ugwu came to realize other things. He was not a normal houseboy; Dr Okeke's houseboy next door did not sleep on a bed in a room, he slept on the kitchen floor. The houseboy at the end of the street with whom Ugwu went to the market did not decide what would be cooked, he cooked whatever he was ordered to. And they did not have masters or madams who gave them books, saying, 'This one is excellent, just excellent.'
(Page 17.) Ugwu is a grateful subject for their attention, picking up reading material from his master that is far beyond him, but stubbornly working his way through it, and on the whole being a quick and eager learner.
The next narrator is Olanna, and we start off with a glimpse of her background. She has a (non-identical) twin sister, born to parents who are of Nigeria's upper class, her father is a businessman and involved in government. They have a plot to get Olanna, the pretty one, bartered away to strengthen their connections, while Kainene, is being groomed to take over the business, in place of the son they lack. The sisters have grown apart during their stay in Britain to study and though Olanna would like to bridge the gap, Kainene upholds her distance. Olanna is uncomfortable with her family's wealth and seems more happy visiting her aunt and uncle, who are comfortably, but more humbly situated. She has no patience, moreover, with her parents plot to sell her off, and is moving to Nsukka to live with Odenigbo.
The third narrator is Richard, who is a Brit newly arrived in Nigeria. He is drawn by a recent find of ancient local art, and is an aspiring writer. He falls in love with Kainene almost at first sight at a party and in love with the country and the continent progressively through the book.
The characters alternate in this order throughout the novel. Though the narration is third person «omniscient», but changes tone with the three characters as we share their thoughts and feelings. This works beautifully, by giving the reader three strong voices who all have their different perspectives on the events of the story.
Life is peaceful enough in the first part of the novel, set in the early sixties. But then the plot skips foreward to the late sixties and the disturbances that led to the secession of the southeastern part of Nigeria as The Republic of Biafra. The new republic is not recognised by the international community and civil war ensues. I am ashamed to say I knew very little about Nigerias history before reading this book, and though I had heard of Biafra, all I could recall was vague images of a hunger catastrophy. That is part of the story, certainly, but there is so much more to learn. Partly because I was so unaware of the progress of the conflict it threw me when Adichie suddenly takes the plot back to the peaceful early sixties half-way though the book, before returning to the late sixties and the culmination of the civil war in the last quarter. At first, I was puzzled by this strategy, and failed to see that it contributed anything useful, but once I got over my own impatience to see «what happened next», I recognised that the cruel contrast between the progressively more desperate situations in the war zone and the peaceful, optimistic, forward-looking earlier years lends a deeper poignancy to the individual fates than a mere chronological retelling would.
While narrating the story of the war and it's origins, Adichie touches on many subjects, not least of which is how the colonial English used the divide and conquer tactics to such effect in Nigeria that the after-effects are in operation long after the control has (nominally) passed to the Nigerians. This is true for much of Africa, and probably for much of the post-colonial world. Interestingly, the magnificent lack of concern shown by outsiders is most clearly shown through Richard's, the outsider's, eyes. Perhaps because he is white and so all the other white people expect him to be «on their side». Richard, however, has given his heart to Biafra, even as he recognises that he will always be an outsider.
Richard exhaled. It was like somebody sprinkling pepper on his wound: Thousands of Biafrans were dead, and this man wanted to know if there was anything new about one dead white man.
(Page 369.) Following on from this Adichie raises the question of who should write Africas stories. Thoughout the book are fragments of a history of the war. At first the reader assumes they are supposed to have been written by Richard, he is the writer, after all. But is he the one to tell Biafra's story?
________________________
Adichie besøkte både Sverige og Norge forrige uke i anledning utgivelsen av hennes nye bok, Americanah, desverre kom hun ikke til Trondheim og jeg hadde ingen mulighet til å reise for å se henne. Men SvD publiserte en tekst hun har skrevet om at virkeligheten overgår diktningen og hos Och dagarna går kan du se en video der hun snakker om boka.
Half of a Yellow Sun er oversatt til norsk av Mona Lange og gitt ut av Gyldendal med tittelen En halv gul sol.