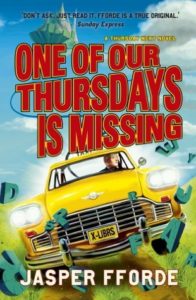 I sommer endte jeg med å starte på gjenlesing av Jasper Ffordes serie om Thursday Next. De første par bøkene seilte jeg gjennom ganske kjapt, så kom hverdagen og det gikk litt treigere, og så begynte jeg på One of Our Thursdays is Missing i oktober og der stagnerte det helt. Når jeg tok meg sammen etter nyttår og leste meg gjennom siste halvpart av boka i løpet av noen få dager kom jeg fram til at noe av problememet med den sjette boka om Thursday Next er at den slett ikke handler om Thursday Next. Det vil si, den handler ikke om den samme Thursdayen som de første fem bøkene, jeg-personen vi følger i bok seks er den (ene varianten av den) fiktive Thursday Next. Og selv om hun ligner er det ikke samme person, det er noe av poenget. Så Fforde må rett og slett gi meg litt tid til å bli kjent med en helt ny hovedperson. Og det der var sikkert rimelig uforståelig om du ikke har lest Fforde… Ikke fortvil, det er rimelig forvirrende når du leser Fforde også, men ganske underholdende. Men start med The Eyre Affair.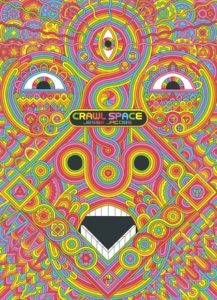 Crawlspace av Jesse Jacobs var litt underholdende, men mest… merkelig. Noen tenåringer finner en inngang til en regnbuefarget psykedelig verden gjennom vaskemaskinen og tørketrommelen i kjelleren til en av dem. Jeg tror det er en metafor for narkotika, men jeg er jaggu ikke sikker. Narnia it ain't. Å «bli høy» har aldri appelert til meg, og det gjorde ikke denne boka heller. Tegningene er forseggjorte, men jeg satt igjen med den samme følelsen som etter en kunstutstilling på Ni Muser i hine hårde dager som besto av et tredvetalls kvadratiske lerret med det samme geometriske mønsteret i forskjellige kombinasjoner av brunt, beige og grått: «At noen gidder.»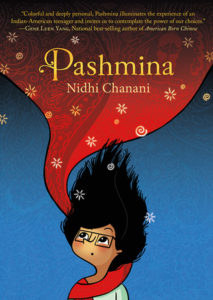 Pashmina by Nidhi Chanani is a fairly charming story of growing up in the USA with roots in India that remain largely unexplored until the protagonist is old enough to rebel at the reticence of her mother and push for more knowledge. An important narrative driver in the story is the Pashmina of the title, which is magical, showing the various women in the story images that act as guides in the critical crossroads of life. I am rarely enthused by «magical realism» or variations thereof (I prefer realism or full-on fantasy), and Pashmina did not really convince me for that reason, but the artwork is certainly stunning.
(Argh. I did it again. I changed languages half way through for no good reason. Ah, well.)
Ffforde-boka har jeg kjøpt sjøl, de to andre har jeg lånt på biblioteket.