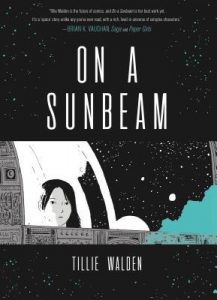 On a Sunbeam av Tillie Walden er en grafisk roman som nevnes ofte på podcasten Book Unbound (siden sist har jeg blitt Patreon og hørt meg gjennom alt bonusmaterialet også). Det er en Sci-fi fortelling som foregår i et univers som ligner vårt. Mia er det nyeste medlemmet i et team som reiser rundt i rommet og driver med restaureringsarbeid. De fikser gamle bygninger (eller romstasjoner), noen av dem kulturelle klenodier, andre mer prosaiske – kontorbygninger som skal settes i stand for nye brukere. Parallelt med fortellingen om hvordan Mia finner sin plass i teamet får vi flashbacks til fem år tidligere, da hun gikk på kostskole og møtte Grace fra «The Stairs». Mia og Grace blir kjærester, men Grace må forlate skolen igjen i hui og hast og de får ikke tatt farvel. Og The Stairs er forbudt område.
Teamet Mia blir med i består av Char og Alma, som er et par, Almas niese Jules og Elliot – som bruker pronomene they/them og ikke snakker. Utenom ikke-binære Elliot er alle vi møter i historien, venner eller fiender, kvinner.
Historien fokuserer på vennskap og «found family», med noen innslag av bevaringstematikk – bevaring både av natur og kultur. Tegnestilen er ved første øyekast enkel, men har en uventet dybde og fargepaletten begrenset til rød, oransje og burgundertoner. Effekten er nesten hypnotiserende.
Char og Alma drev tidligere mer på kant av loven, selv om de nå kun tar legitime oppdrag, og en slags nostalgi for tidligere, mer rebelske tider gjennomsyrer hele teamet. Når et uhell på et oppdrag gjør at Char, som leder, blir suspendert og erstattet med en vikar, Jo, er eksplosjonen uungåelig, særlig siden Jo ikke akkurat gjør noen god figur. Hun nekter for eksempel å «huske» at Elliot ikke snakker og svarer til they/them, fordi «This is a job, none of that is important».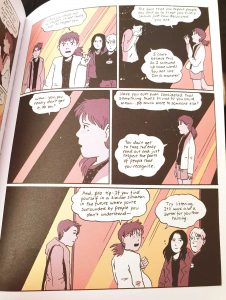 Dialogen fra siden over:
Jules: When you chose not to respect us, we chose not to respect you. The fact that you expect people you shit on to treat you nicely shows how delusional you are.
Jo: I can't believe this. So I screwed up some words. You act like I'm a monster.
Jules: Wow… you, you really don't get it, do you? Have you ever even considered that something that's trivial to you could mean… so much more to someone else? You don't get to take the easy road out and just respect the parts of people that you recognize. And, pro tip: If you find yourself in a similar situation in the future where you're surrounded by people you don't understand – Try listening. It'll work a lot better for you than talking.
Jeg synes det var interessant å bemerke at Jo er den eneste i hele historien som bruker feil pronomen om Elliot. Selv de som jager hen som en forbryter senere i boka (mini-spoiler der, altså) bruker they/them.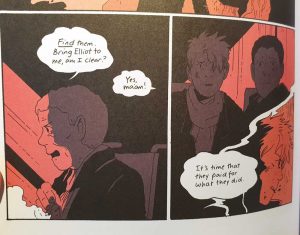 On a Sunbeam ble først utgitt som nettserie og kan fortsatt leses i sin helhet på nett. Jeg anbefaler absolutt å sjekke den ut, om du foretrekker papir har i alle fall mitt bibliotek boka tilgjengelig (selv om jeg nok skulle ønske den var delt inn i flere bind, den er tung).
Boka har jeg lånt på Trondheim folkebibliotek.