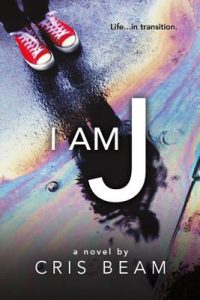 I am J by Cris Beam is another book the teen brought home from the school library and read first. While being majorly frustrated by the actions and words of some of the characters, the teen's final judgement was that it was a good book despite everything and I should read it.
I guess I beg to differ. It is not a good book.
Ok, it has some redeeming qualities. J's descriptions of how it feels to not present outwardly the way you feel inside ring true (and I suspect Beam has drawn heavily on her interviews with trans teens in these sections), but J himself is… not particularly likeable. At the very start of the book he is completely uninterested in the news that a younger girl is doing sexual favours for money in another room at the party he's at, even calling her a stupid bitch and briefly fantasising about being one of the guys in line. And he kisses his best friend non-consensually (while she's asleep), and is completely confused when she's not happy about it. Nor is anyone else in the book particularly likeable. Those that come close are so undefined and caricaturish that they still fall short. There is also the fact that everything seems to fall into place just a little bit too smoothly for J once he starts attempting transition. Not as smoothly as J would have liked (he imagines just turning up at a clinic and getting testosterone immediately), but definitely unrealistically fast, up to and including J's plans for college.
And so I guess I'd say that the book is not particularly well written. However, it is almost hard to judge, because the main problem with the book is the feeling of raging queerphobia. J himself reacts very negatively to people asking him if he's a lesbian (because they think he's a girl, obviously). Ok, I get it, he can't be a lesbian because he's a boy. BUT the reaction seems to contain more than just «that's not me», there's a distinct flavour of «gay is bad» as well. Which is sort of understandable considering his upbringing, his parents are obviously not queer friendly, but it is never resolved/discussed/problematised.
Even the good sections are marred by J's complete disrespect for other people.
Once, when he was in the car with his mother, he heard a radio program during which the announcer asked people whether they'd rather be invisible or able to fly, given the choice. Practiacally everyone chose flight, and J was shocked. Of course he'd be invisible. Not only could he spy on people's conversations and watch how other guys had sex, but he could stop feeling so many things. That was the problem – these feelings. He felt angry and confused, and then lost and embarrassed, and all these emotions tumbled together like the bad murals at school, all the colors running into one another, making him lash out at people, like Blue.
(…)
And would being invisible mean he wouldn't have feelings anymore? Somehow, he thought it would. Like, if people couldn't see him and react to him in all their complicated and terrible ways, then he wouldn't have anything to feel _about_. And, of course, he wouldn't have this body that betrayed him all the time.
(Page 147-148.) The confusion here is well presented, and I marked the passage because of it, and because of the interesting idea that being invisible would also mean not feeling so much, which is understandable for someone who has a lot of feelings around how he looks and especially how other people see him. But am I the only one thinking that fantasising about watching other guys having sex – without them knowing, since he's invisible, I'm not going to kink-shame here, if consensual go ahead – is… not ok? And where are the girls these guys are having sex with in J's mind? I presume he doesn't want to watch guy-on-guy-action, since J is straight, but I guess the girls are unimportant? Or what?
Then when he starts at a new school downtown which is – as it turns out – a school for queer kids who have run away or been thrown out (mostly, I guess? It's never actually stated), the other students are equally unpleasant and prejudiced. And yes, I know being queer yourself does not automatically make you a good person in every way, but the ratio of jerks to not-jerks here is definitely not reflective of the queer communities I've ever come into contact with.
I mean… First J is hassled in math over possibly being intersex. Which… ok, he's not, but what if he were? It's never made clear that intersex is not supposed to be a slur, either. And then there's the unchallenged biphobia. And Sw-phobia. And just the whole of the interchange in the classroom when reading Whitman:
«A poet was with a prostitute?» The slender boy was still fixated. «Was that legal in the olden days?»
(…)
[Charlie, the teacher:] «And Whitman did also love men.»
«You mean he was bi?» someone said. «Eww.»
«That's nasty,» the girl in the leather jacket agreed.
Why? J thought. He didn't expect this from queer kids.
«Bisexual wasn't a term widely used in Whitman's day, so we shouldn't ascribe language that isn't historically accurate,» Charlie said. «But he did love both men and women.»
J raised his hand, just a few inches from his desk.
«Yes,» Charlie said. «Tell me your name again?»
«J,» he said quietly. He didn't like speaking in class, but he was feeling less afraid of these kids. He'd already been hassled in the math class and survived. » If there isn't a term for something, then does it even exist?»
Charlie scooted back on her desk and looked at him straight on. «That's actually a very big and difficult question. Does anyone want to try to answer it?»
«What'd he say?» asked the slender boy.
Someone else shouted, «Tyrone exists, and we don't know what to call him!» Everyone laughed and looked at a chubby boy sitting by the window. Tyrone tried to smile, but J could tell he was stung.
(…)
«For reals, this poet shoulda picked men or women or prostitutes. Bisexual's nasty,» the slender boy said.
Forget it, J thought.
(Page 142-144.) How the hell is Mr. «Bisexual's nasty» allowed to have the last word here? In a book that's attempting to tear down prejudice, I'd call it irresponsible. Just to be clear: J's «Why?» is never answered. His «Forget it» is the last that's said on the subject.
Another problem, and this REALLY is irresponsible, is that J makes himself a binder early on in the book, giving a detailed description on how. Basically, the book provides instructions on how to make your own binder. From ace bandages. Which is not safe. As in: You can seriously damage your health. Towards the end it is mentioned that he has a hand-me-down binder now, but it is never mentioned that his home-made one is actively dangerous. So this book in the hands of a closeted trans boy is an instruction booklet for disaster. After talking to the teen about this, they talked to the school librarian, who will put a note in the book to warn future readers. I'm not in favour of censorship, so I don't think removing the book from the shelf is the answer, but future readers ought to know there are other, better, safer alternatives for binding and not to follow J's example.
On the whole, I guess, my advice is to skip this one. There are (now, at least, the book was published in 2011) better books about trans experiences out there. Not least are there books about trans experiences written by actual trans authors, which Cris Beam is not.