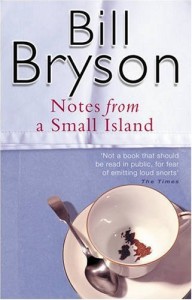 In which we look for travelling companions.
Following Faintheart, I succumbed and reread Bill Bryson's Notes from a Small Island, despite the fact that very little of it concerns Scotland (Scotland being the topic I'm supposed to be covering). It really is an excellent book. I think one of the reasons I like Bryson som much is that he's as batty about Britain as I am. And in precisely the same way, too. We may complain about the plumbing (or ask «What plumbing? You mean they have plumbing?») and we may be bewildered by bus queues and picnics on the beach in a gale, but we love even the plumbing and the queues and the picnics, simply because Britain wouldn't be Britain without them. (Cue the librarian walking into a B&B and exclaiming with delight: «Look! Separate taps for hot and cold water!» though if someone suggested she install such a system at home she'd be horrified, naturally, just think of the impracticality!) Which doesn't mean that Bryson likes every place he visits, and it certainly doesn't mean he doesn't say some pretty cutting (though mainly quite funny) things about people and places, but at least you get the feeling that, on the whole, he actually likes travelling. What a nice change from Mr. Jennings.
I then ventured on Native Stranger, my other haul from amazon. This one is written by a Scot (his name, in fact, is Alastair Scott), and is as much an examination of how history has affected the Scottish mind and the Scottish landscape as it is about travelling, as such. I learnt a lot. On the whole, a very interesting account, but again, I found something lacking. I have no reason to think that Scott did not enjoy his trek, he seems interested in the people and places he meets, but the contrast to Bryson is there: he doesn't convey any enthusiasm to the reader. Bryson can make me want to go places I had never even contemplated before. Having read Bryson's A Walk in the Woods, only a strong dose of self-discipline kept me from packing my bags set off to walk the Appalachian trail just as soon as I could find a travel agency willing to sell me an airplane ticket. In fact, I was this close to just up and walking there, I was in Detroit at the time and it seemed like the experience would be worth a walk across a couple of states…
So I guess maybe that's what I am missing. I am missing the ability in the author to make me sigh «I wish I were there too!» Not, like Jennings, «I wish I were there instead!» I want the author to give me the impression that I would like him/her as a travelling companion, and I guess a measure of enthusiasm is one of my prerequisites for travelling companions. And with that in mind, statements like these put me off:
«Lunchtime would se me turn Viking, invading a grocer and pillaging milk, pies, cheese, bananas and Mars Bars; and stocking up with Cup a soups, tuna and spaghetti for the evening. My diet seldom varied. Since I began travelling the taste of food has ceased to have much importance and my tolerance for monotony usually lasts a journey.»
Fine, so food isn't the be-all and end-all (at least, interesting food isn't) of life in general or travelling in particular, but one of the joys of travelling is to sit down to a good meal at the end of the day, with a good companion (a person or a book, I don't mind either way). Or to have a picnic consisting of slightly dry bread and flat fizzy water on a cliff in a downpour. The food doesn't have to be good, but it has to be part of the experience. I don't know. Somehow, that one comment about food set the mood of the whole book for me. I never got in tune with the author after that.
Still, as a grounding in Scottish history and modern sensibilities it was a good read, not to be sneezed at.
Bill Bryson, if you ever read this (I don't know why you should, but if you do), please, please, please write a 'Notes from a Small Island 2', and spend a little more time in Scotland and a little more in Wales.