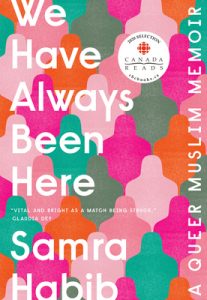 We Have Always Been Here av Samra Habib har versert på forskjellige lister over «LGBTQ+ non-fiction to look out for», så når jeg skulle bestille en annen bok nylig og måtte legge flere i handlekurven for å få gratis frakt (altså, ja, jeg skjønner jo at det er et billig salgstriks, men jeg bruker jo heller penger på flere bøker enn på porto likevel) sjekket jeg TBR-lista og plukket denne.
Habibs familie bor i Lahore i Pakistan. De er Ahmadi, en retning innen Islam som er en minoritet og blir forfulgt i Pakistan, og Samras foreldre bestemmer seg for å emigrere til Canada, rett før hun skal begynne i sjette klasse. Livet i det nye hjemlandet blir vanskelig for hele familien. Hjemme i Pakistan har de levd i relativ rikdom, og faren har vært en aktiv entreprenør som har bygd hus og tjent greit med penger. I Canada havner de nederst på rangstigen, og faren sliter med å få seg jobb blant annet på grunn av språkproblemer. Barnas møte med den Canadiske skolen er heller ikke blidt. Når hun er 13 får Samra vite at hun er lovet bort til fetteren sin, som er mange år eldre og som har flyttet til Canada sammen med dem. Hun føler seg maktesløs under forventningene fra foreldrene og det muslimske miljøet de lever i og noen få år senere gjennomfører hun den religiøse vielsesseremonien nikah uten protester.
For years afterwards, my mother would remind me of how I signed the nikah papers that night without any hesitation. The fact that I didn't resist was an indication that I was okay with the arrangement, and this belief absolved her of guilt and shifted some of the accountability onto me. That particular detail and her memory of it would haunt me as I tried to undo the damage it caused. I started to internalize my mother's belief that my lack of resistance was my way of consenting and that I was responsible for what had happened. I carried the guilt within me, holding myself accountable for not saying anything earlier, even though I felt that I couldn't. (Side 82.)
Det unge paret er ikke forventet å leve som mann og kone (heldigvis!) og selv om Habib føler seg fanget leder «ekteskapet» paradoksalt nok også til større frihet for henne, siden hun som gift kvinne ansees som mer voksen og på ett vis beskyttet.
Dette er bare starten på Habibs kamp for å få lov til å være seg selv og finne sin egen identitet. Først etter ennå et mislykket ekteskap – denne gangen til en innfødt canadier – begynner hun å teste ut det å kalle seg selv «Queer».
Jeg blir mer intellektuelt enn emosjonelt engasjert av Habibs historie og jeg mistenker at det delvis skyldes hennes fokus på å finne sin identitet som skeiv muslim i religiøs forstand, ikke bare sekulær, «etnisk» muslimsk identitet. Spiritualitet er virkelig ikke min greie. Samtidig kan jeg lett anerkjenne hvor viktig Habibs historie er som en representant for en gruppe som har vært lite synlig. Kampen for skeives rettigheter i vesten har historisk vært både hvit og binær og å finne skeive forbilder fra etniske eller religiøse minoriteter har vært vanskelig.
I had naively assumed that no longer keeping my queer identity a secret would help me find my people. In reality, it pushed me further into the hole of isolation. It seemed that no one in the queer spaces I visited-dance parties, art shows, Pride events-was curious about why there were hardly any people of colour – and hardly any Muslims – in their midst. I felt even more invisible. (Side 166.)
For å gjøre sin del for å bøte på denne usynligheten starter Habib et fotoprosjekt der hun portretterer skeive muslimer, og bokas siste del er mer fokusert på historiene til noen av menneskene hun møter gjennom det prosjektet enn Habib selv.
We Have Always Been Here er utvilsomt en viktig bok her og nå, men jeg er ikke sikker på at den er god nok litterært til å stå seg over tid. Når (ikke hvis) vi kommer dithen at å være skeiv og muslim ikke er noe oppsiktsvekkende klarer jeg ikke helt å se for meg at den vil bli stående som noen klassiker man likevel «må» lese. Men her og nå? Joda, her og nå bør du absolutt lese den.
Boka har jeg kjøpt sjøl.