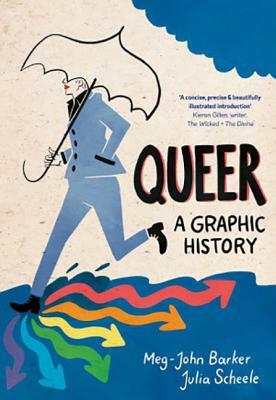 Jeg kjøpte Queer. A Graphic History på museumsbutikken til Queer Britain (besøk det museet om du er i London!) i fjor høst og plukket den ned fra hylla for å krysse av «Sakprosa om LGBTQ+ tematikk» i Sakprosaseptember-bingobrettet. Det var jo nyttig å få lest den, kan du si, men dessverre ble det en ganske middelmådig leseopplevelse.
Hovedproblemet var nok mine forventninger. Jeg hadde ventet en historisk gjennomgang av det å være skeiv – og håpet på litt historie om folk som har utfordret det binære synet på kjønn opp gjennom historien, gjerne i andre kulturer enn min egen. Men dette er ikke en grafisk historie om det å være skeiv, men noe nærmere en grafisk historie om «Queer Theory», eller i alle fall det å «do queer» («gjøre skeiv»?) som en filosofisk og/eller politisk retning.
I så måte gjør boka et greit forsøk på å være informativ, den tar for seg de forskjellige filosofiske strømningene som kom før og som har påvirket «queer theory», og introduserer tenkere som har hatt innflytelse, enten de selv så seg som del av retningen eller ikke. Men kanskje er det et for komplisert tema for en grafisk framstilling? Jeg vet ikke, men jeg føler meg ikke så veldig opplyst.
En detalj jeg hang meg opp i såpass tidlig i boka at det påvirket min tillit til det andre den forteller var den etymologiske forklaringen av ordet «queer» der forfatteren presenterer det kategorisk som at det ikke lenger er i bruk i betydningen «rar» eller «merkelig», og ikke har vært det på lenge, noe det vitterlig er (om enn kanskje mindre enn før, og det er fullt mulig det er på vei ut). Boka sier «Even in the early 20th century the word «queer» was still often used in this way,» (Side 8), «tidlig på 1900-tallet altså»? Til og med «gay», som nå vel helt har falt ut av bruk i betydningen «happy», var jo i bruk den gangen? Jeg lurer på om ikke forfatteren egentlig har tenkt på «queer» som verb her, for det har ganske riktig falt ut av gjengs bruk i betydningen «ødelegge»/»rote til» og brukes vel nesten bare i «skeive sammenhenger» nå til dags (Merriam-Webster er enig med meg, forøvrig, queer som adjektiv er fortsatt kurant, queer som verb er «gammeldags» i annet enn skeive sammenhenger).
Det er også et nesten overdrevet fokus på å problematisere, som for eksempel i denne teksten om Adrienne Rich:
Foreshadowing later queer theorists, Rich pointed out that all the effort that goes into enforcing compulsory heterosexuality reveals its very precariousness and instability. If heterosexuality was just natural, it wouldn't need to work so hard to shore itself up, and it wouldn't be so threatened by the alternatives to it.
Rich's essay also introduced the idea of the of the «lesbian continuum» to capture all kinds of bonds between women (not just the sexual ones) as ways of resisting patriarchal compulsory heterosexuality.
Rich has been criticized for suggesting that all man-woman relationships are coercive, and that all woman-woman ones are political (not to mention keeping those gender binaries in place). She also failed to consider how compulsory heterosexuality oppresses gay men and other marginalized sexualities. (Side 45)
Jeg skjønner for så vidt hvorfor, men når boka i utgangspunktet inneholder ganske korte forklaringer av begreper og hva folk har fremmet av teorier (det over er all teksten på den siden, og på siden før er det to avsnitt til om Rich, som er første gang hun introduseres), så ender alle forbeholdene som tas med å undergrave hele narrativet (de tar ofte nesten like stor plass som selve forklaringen) og leseren (i alle fall denne leseren) blir litt sliten av at ikke en eneste ting fastslås som «fakta», alt stilles det spørsmål ved. Det er kanskje en grunn til at jeg ikke fortsatte med studier i filosofi etter det ene året med idéhistorie, si. Målgruppa for denne boka er tilsynelatende «hvermannsen» («hverkvinnsen»? «hverpersonsen»?), men kanskje jeg misforstår, kanskje er den tiltenkt førsteårsstudenter på humanistisk fakultet? (Dette var meg en gang.)
En siste ting jeg hang meg opp i, og som kanskje også har mer med mine forventninger å gjøre enn med boka som den foreligger, er at jeg forventer noe annet enn dette når jeg leser «a graphic history». Jeg ville kalt dette «an illustrated history», men jeg er usikker på om den distinksjonen er gjengs eller bare finnes i mitt hode. Formatet i denne boka er at hver side inneholder en «normal tekst» og en (eller noen få) illustrasjon. Illustrasjonene inneholder også snakkebobler og annen tekst, men den teksten er i liten grad en integrert del av «hovedteksten». De aller fleste sidene har formatet «tekst, illustrasjon» eller «tekst, illustrasjon, tekst». Når jeg tenker på sjangeren «graphic» er det tegneserieformatet jeg ser for meg, der teksten kommer som en del av flyten i tegningene. Mulig det er klønete forklart? Her er en illustrasjon av hva jeg mener, med en side fra denne boka til venstre og en side fra Queer as All Get Out av Shelby Criswell til høyre (en fantastisk bok, forøvrig), som også har mye «ren tekst», ikke bare dialog/sitater: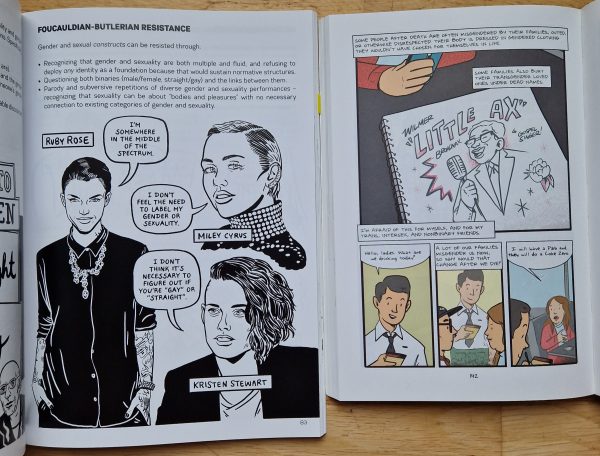 Hadde boka ellers fungert for meg hadde jeg neppe hengt meg opp i formatet, men som det er ble jeg nærmest forstyrret av det.
Bør du aktivt unngå Queer. A Graphic History? På ingen måte, men jeg ville nok prioritert andre bøker først (for eksempel nevnte Queer as All Get Out).
Boka har jeg kjøpt sjøl.