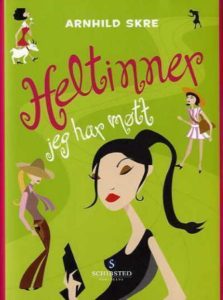 Det var en kommentar på et innlegg som handlet om noe helt annet på en eller annen Facebookgruppe som gjorde meg oppmerksom på at Heltinner jeg har møtt av Arnhild Skre eksisterer. En reservasjon hos biblioteket ble kjapt sendt avgårde og vips hadde jeg boken i hende.
Skres prosjekt er interessant. Hun tar for seg et utvalg jenter/kvinner fra litteraturhistorien (pluss noen fra viser, film og til og med dataspill), gruppert etter når hun i eget liv opphøyde dem til heltestatus. Vi får møte Milly Molly Mandy fra Skres barndomlesing, Mette Marit spenner over både "tweens" og tenår, vi møter 70-tallets politiserte heltinner Bjørg og Unni og en gjenfunnet kjærlighet for klassikere når Skre bikker førti. Blant annet. Hver heltinne får både faktaboks, gjenfortelling av grunntrekkene i verket og Skre gjenleser og kommenterer både kritisk og kjærlig. Om Milly-Molly-Mandy (på side 28-29):
"De kaster blår i øynene på deg," sa farmor da jeg ti år senere begynte å lese Det Nyes noveller og motestoff. I dag ser jeg at det var lesestoffet hun selv valgte til meg som sterkest hindret meg i å se klart. Brisley lovet beundring og ros for å være nyttig, dyktig og pliktoppfyllende. Det tok år å oppdage hvor lite sant dette løftet var.
Heltinner jeg er møtt er på sitt sterkeste nettopp i kontrasten mellom det nostalgisk, kjærlige blikket fra barne- og ungdomstidens lesing og den kritiske samtidige røsten som både er blitt voksen og har skaffet seg litteraturfaglig bagasje. Vi har lest mange av de samme bøkene, Skre og jeg (om en til dels på forskjellige stadier i livet), og refleksjonene over heltinnene og hvike rollemodeller de var, er og kan være er interessant lesing. Skre klarer også å legge bøker til leselisten min (og som jeg har skrevet før, en bok-om-bøker som ikke gjør det er mindre vellykket).
Men utover i boka dukker det for det første opp småfeil som irriterer meg, og etterhvert føler jeg at narrativet stagnerer og prosjektet faller sammen og jeg begynner å krangle med Skre.
Feilene, først. Det er filleting, men også sånt som jeg ikke skjønner at et seriøst forlag ikke har klart å fange opp i korrektur. I kapittelet om Lille My på side 175:
På vei inn i trettiårsalderen var jeg fead up med kulturens krav om å bli en oppofrende mor og – enda mer – med kravet om å være en oppofrende kone. Absolutt fead up var jeg med det. (Sic)
Det kan jo ikke være trykkfeil heller, når det gjentas. I følge Urban dictionary betyr fead: "A person who is both fed up and dead at the same time." Men det uten "up", og det Skre vil fram til heter altså "fed". To sider senere står det "loonere" når jeg er rimelig sikker på at det er "lonere" som menes (selv om "loonere" er ufrivillig morsomt). I faktaboksen om Stolthet og fordom på side 220 kan vi lese:
Stolthet og fordom (Pride and Prejudice) er en omarbeidet versjon av romanen Ellinor og Marianne som Austen skrev 1795-1796.
Det er jo selvsagt vrøvl. Ellinor og Marianne ble riktignok omarbeidet, men den endelige romanen heter Sense and Sensibility (med hovedpersonene Ellinor og Marianne…). Forgjengeren til Pride and Prejudice het First Impressions, og den ble sannsynligvis skrevet 1796-1797, dessuten.
I faktaboksen om Nemi på side 264 er etternavnet stavet Montaya. Det skal selvsagt være Montoya, etter Iñigo Montoya fra The Princess Bride.
Og feilene, bagateller som de tross alt er, hadde kanskje ikke gjort meg like mye hvis ikke jeg altså også hadde begynt å krangle med forfatteren, delvis på detaljer i gjenfortellingen. At ingen i familien til Elisabeth får vite om frieriet fra Mr. Darcy (side 225)? Selvsagt får Jane vite, åpenheten mellom de to søstrene er et av historiens fundamenter, det hadde vært en helt annen roman ellers, så hva babler du om? At Florence Nightingale nevnes i samme setning som Solveig, og lot "mennene utføre heltedådene og ventet med kjærlighet, bandasjer og uendelig tålmodighet til seierherrene kom hjem" (side 270) er en merkelig tolkning av historien. Riktignok var ikke Nightingale på frontlinjen, men nær nok, skulle man tro, og på feltsykehusene under Krimkrigen var det vel ikke akkurat overflod av triumferende hjemkomne "seierherrer". Og når Skre skriver om Pippi på side 307 får jeg lyst til å kyle boka i veggen:
Hun er for ensom, for forsert. Hun lager for mange problemer for seg selv til at hun noen gang virkelig har klart å interessere meg. Jeg misunner Pippi fordi hun er så sterk og sikkert også fordi hun er rik, men jeg kunne ikke tenke meg å ligne henne på noen annen måte. Om hun vekker nysgjerrighet hos meg, er det rent teoretisk, fordi hun stiller spørsmål ved konvensjonene. Likevel var og er Pippi en barnebokfigur jeg merker at jeg synes mest synd på. Hun virker ikke ærlig. Hun hopper og spretter og jubler i vei, men ser ikke ut til å ha det godt. Slike er ikke heltinner.
That's a bit rich fra noen som nettopp har hyllet Beatrix Kiddo fra Kill Bill som heltinne (jada, problematisert og alt, men likevel). For hun later jo til å ha hatt det godt, ikke sant? Det er da forøvrig også et merkelig kriterium for å være heltinne, at du skal ha det godt? Dessuten, liker du ikke Pippi kan vi ikke bli BFFs. Sånn er det bare.
Og er det så mye vold i tidlig Nemi som Skre skal ha det til?
Stemningsargumentet "Jeg var sur den dagen, derfor dro jeg til deg," holder imidlertid ikke helt som rettferdiggjøring. Det kan til nød være unnskyldning en gang i mellom. Hos Nemi skjer ikke dette bare av og til, hun ber heller ikke så ofte om unnskyldning.
(side 282) Jeg måtte hente ned Enhjørninger og avsagde hagler fra hylla og bla meg gjennom, og jeg fant tre striper der Nemi deler ut slag og en der hun selv får en veske dasket i hodet. Så jeg skal gi Skre rett i at om man leser det som "Nemi slo faktisk til den pene servitøren med knyttet neve" kan man nok si at det er mye vold i Nemi. Her tror jeg problemet er at Skre tar volden mer bokstavelig enn jeg gjør. Jeg tolker de tegnede knyttneveslagene som metaforer eller overdrivelser, på samme måte som at jeg antar at når Nemis lange svarte hår står rett til værs er hun tegnet sånn for å se skremt ut, ikke fordi noens hår faktisk kan stå rett til værs. Her får vi være uenige om tolkning.
I kapittel 9 virker det nesten som om en heltinne har falt bort, for plutselig dukker det opp flust av referanser til Calamity Jane. I den første refereres det til filmen fra 1953, men i motsetning til de andre verkene som omtales som jeg ikke har lest/sett/hørt gis det ingen synopsis av musikalen Calamity Jane. Jeg, som hovedsakelig har et forhold til den historiske personen, blir derfor totalt forvirret av at hun visstnok "ble en komisk figur fordi hun ikke var dame på den "riktige" måten" (side 240) og at hun "måtte skifte garderobe og bli "kvinne" for å få mann og barn og en hjemmekos som på 1950-tallet var verdt mer enn all verdens jobber og lønn" (side 258). Her lurte jeg virkelig et øyeblikk på om det var meg eller Skre det hadde rablet for når Skre referer til et årstall som er nesten 100 år senere enn der jeg mentalt hadde plassert Calamity Jane (en smule unøyaktig, skal jeg innrømme, jeg trodde hun levde på midten av 1800-tallet, men hun ble født i 1852). Men Skre snakker selvsagt om filmen (som virkelig virker å være bare løselig knyttet til faktisk historie). Når Calamity Jane igjen nevnes i oppsummeringen av kapittelet, sammen med de tre heltinnene det egentlig har handlet om, konkluderer jeg med at hun var ment å være en av de utvalgte i et tidligere utkast av boka, men ble klippet på noe tidspunkt uten at alle referanser forsvant.
Men Skre lykkes i alle fall med å få meg til å ville lese Martha Christensens Dansen med Regitze og å søke opp Bodil Nilsens viser om Trille. Og noen nyttige refleksjoner har jeg også fått med meg på veien, så en total fiasko var boka ikke for meg. Men jeg hadde håpet på noe mer, og følte at boka holdt det den lovet til vi var omtrent halvveis. Så kanskje jeg skulle anbefale å lese første halvpart av Heltinner jeg har møtt, så kan du heller gi deg etter kapittel sju eller deromkring.
Boka har jeg lånt på biblioteket.