It is Thursday afternoon, and I have 2.5 days left of the Queer Lit Readathon. I have finished three books from my TBR, and am covering quite a few squares, but no obvious bingo yet. Anyway, here are my thoughts on the first three.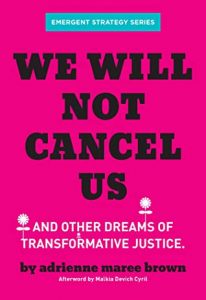 We Will Not Cancel Us and Other Dreams of Transformative Justice by adrienne maree brown
This tiny little thing, more a pamphlet than a book, has shown up several places in the last few months since it was published, and it seemed like a good fit for the Shorter Than a Novel bingo square, so I added it to my shopping list. brown makes a case for dialogue and reflection rather than «cancel culture».
What we do now is find out someone or some group has done (or may have done) something out of alignment with our values. Some of the transgressions are small–saying something fucked-up, being disrespectful in a group process. Some are massive–false identity, sexual assault.

We then tear that person or group to shreds in a way that affirms our values. We create memes, reducing someone to the laughing stock of the Internet that day. We write think-pieces on how we are not like that persona, and obviously wouldn't make the sae mistakes they have made. We deconstruct them as thinkers, activists, groups, bodies, partners, parents, children–finding all of the contradictions and limitations and shining bright light on them. When we are satisfied that that person or group is destroyed, we move on. Or sometimes we just move on because the next scandal has arrived, the smell of fresh meat overwhelming our interest in finishing the takedown.
(Page 66.) While her reflections are relevant to everyone who participates on Social Media (which is pretty much everyone right now), I think perhaps you may have to be more directly involved in activist work in order to engage totally with what she is saying. It was all a bit academic to me. She makes it clear in the introduction that she received push-back on publishing the first version of the text online, and claims to have addressed the criticism, however I see from Goodreads comments that some of those who criticised the first version are not happy with this version either, and I must admit to not feeling – while I read it, before having looked at Goodreads – that the issues she claimed to have fixed, especially the difference between harm and actual abuse, were necessarily made clear. In the quote above, for example, she points out that there are different levels of transgression, but it is not at all clear to me that she believes there are transgressions that cannot be resolved through dialogue. Which is a valid opinion, to be sure, but one I can understand that others, even other abolitionists, may not agree.
Anyway, an interesting read, and while not a perfect fit for me it certainly gave me some interesting ideas that will stay with me.
(We Will Not Cancel Us ticks off Intersectional and Shorter Than A Novel)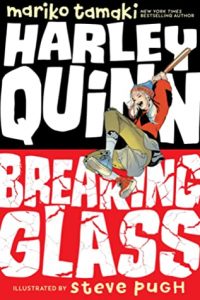 Harley Quinn: Breaking Glass by Mariko Tamaki and Steve Pugh
This feels like a bit of a stretch, but unless I happen to fall across another queer superhero book by Saturday I'm going to let it stand. I haven't read much Marvel, neither have I seen the films, but I have the impression Harley Quinn is at least queer coded. This is not apparent in Breaking Glass, however, so I would have nixed this as a queer read were it not for Mama and his gaggle of drag queens.
I enjoy Mariko Tamakis narrative style, Harley's bubbly chaotic energy is charming and Ivy is a character I'd like to see more of. Steve Pugh's art is great throughout, with flashes of pure genius. I guess the only drawback for me is the reason I don't read much Marvel is I… don't much like superheroes. Or supervillains. I find them kinda… boring. I'd like to read further albums in this series, though, so the conlusion is «Liked it, didn't love it.»
(Harley Quinn ticks off Superheroes)
The long and the short of it? I didn't really enjoy it.
I found it fascinating in parts, for sure, and some of the mythology, and especially the off-play between the ancient Igbo mythology and the newer, superimposed Christian mythology, was interesting and even enjoyable, but… I am unsure how much is down to the way the book is written (this review from David points out some flaws I also noted, beware spoilers galore) and how much is down to my now pretty settled atheism and, for lack of a better description, aspirituality.
Like several other Goodread reviewers I felt that the lack of plot and the emphasis on narrative monologue from the spirits that inhabit Ada made it more difficult to connect with the story. Also: I don't believe in any gods, and the spiritual way of interacting with the world is foreign to me (in every sense, not just because this particular version of spirituality is literally foreign). I like books that play with mythology, but I feel like the difference between the books I have liked and this one is that the former are very clearly fantasy, while Freshwater seems to ask me to accept ogbanje and Ada's being godly as something real, something that belongs in a contemporary literary novel and not in a fantasy setting. A sort of spiritual version of experiences and behaviours that a eurocentric culture would probably classify as gender fluidity and multiple personalities. And it just doesn't work for me, unfortunately.
However, I also felt, like several other reviewers, that this might be as much a lack in me as a reader as a fault of the book itself per se. Or perhaps not so much a lack in either of us, more a disconnect, an acknowledgement that while this is not for me, there is obviously something here that speaks to a lot of other people.
(Freshwater ticks off Group Read, Hard Hitting Contemporary, M-Spec, Not Set on You Continent, Under-represented Identity and Religion)
And so we have my bingo board as it stands right now: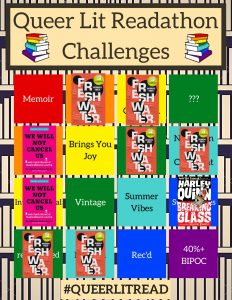 And now what? I will read Giovanni's Room next (which will cover Vintage and Rec'd), but I am looking at the remaining stack of novels and realising I am not going to read them before the week is up. Partly because there is simply no way I'll be able to read that many pages by the end of Saturday and partly because Freshwater made me crave (rational, non-spiritual) non-fiction. I haven't covered the Memoir square on the bingo board, so I will attempt to get hold of something that can fit that slot, I think. If it can be persuaded to have summer vibes and to bring me joy in addition, I am well set, but that might be a push.