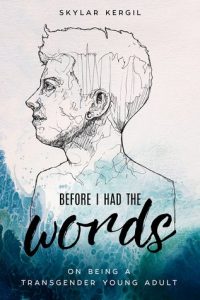 Jeg husker ikke hvor jeg så tips om Skylar Kergils Before I Had the Words, men boka ble med på en eller annen bokbestilling i fjor. Skylar forteller sin egen historie, fra tidlig barndom, der han aldri følte seg helt hjemme i rollen som lillesøster, via prepubertet og pubertet og til transisjon og college og livet etterpå.
A brother and sister sharing a bedroom wouldn't make sense; my reality, the one I didn't speak about, had been that we were brother and brother. And maybe, had I articulated that to my mom, she would have heard me before puberty.
I just didn't have the words.
(Side 19) Skylar har mye til felles med Alex Bertie, selv om de vokste opp på hver sin side av Atlanteren. Begge bruker internett generelt og YouTube spesifikt til å dele sine opplevelser, begge har foreldre som i utgangspunktet er negative, men som tar til vettet etter hvert. De er også omtrent like gamle når bøkene deres slutter.
Igjen finner jeg at jeg er nesten mer interessert i foreldrene og deres reksjoner og relasjoner til Skylar enn jeg er i Skylar selv. Og da er det litt synd at et av de store hullene i Skylars narrativ er at moren først reagerer med at hun ikke kan støtte "dette valget" økonomisk, og så plutselig gjør hun det likevel?
Han forteller dette om når han kommer ut til moren (han har fortalt om at han er "questioning" før, men nå er han sikker på at han er trans):
"You can come to therapy with me, actually, I want you to if that's okay!" I suggested. "There are other people like me and it's possible for me to be happy and feel like myself finally."
"it's not that, it's just" –she started crying– "I can't financially support any of this, this choice. The world is going to be so much harder if you choose this path. What if you can't even go to college? Or find a job? Or a loved one? It's going to make your life so very, very hard."
I felt like I had broken her heart. I asked her real quick about the financial support part of her statement, and she said she simply wouldn't pay for testosterone, surgery, or anything else that reinforced "this idea I had." My therapy sessions, thankfully, she was willing to still cover. Even though it was the second time I had heard it, it was heartbreaking for me, and I got super angry as I walked up to my bedroom, feeling again like the world was out to get me.
(Side 131) Men så kommer den kronologiske fortellingen plutselig til både testosteron og "top surgery" uten at det har blitt sagt eksplisitt at – eller hvordan/hvorfor – hun har endret mening. I slutten av boka er det kapitler der moren, faren og broren får komme til orde (igjen en likhet med Alex Berties bok, selv om der er det begrenset til moren), og der kan vi lese:
When you told me that you would always love me, but not support me financially, I understand that–now–was to make sure I wasn't about to rush into hormones, surgery, etc. At what point did you realize that I wasn't choosing to be transgender and that these steps were needs and not wants?

Yes, the lack of financial support (for that which wasn't covered by insurance…remember, my insurance covered lots of your therapist visits and eventually hormones) in your mind, was putting the responsibility for your decisions about how you wanted to proceed with your transition on you. I did not want to jump in and quickly move through hormones and surgeries without you being 100 percent sure what was right for you. When you started testosterone, and I saw how much that made a difference in how you felt about yourself, I realized that you knew what you wanted and needed and I was fine with moving along as quickly as you wanted. I am sorry that I didn't recognize that in time to have your top surgery before you went to college… that is the one thing I would change (but knowing what I learned along the way and know now… hindsight is wonderful).
(Side 246) Og det føles som… historieredigering fra morens (og til dels Skylars) side? "Jeg kan ikke støtte dette valget" blir til "Jeg vil ikke at du skal forhaste deg"?
Når jeg hadde merket boka som ferdiglest ble jeg sittende og klikke meg videre på "Readers also enjoyed" på Goodreads, og fant dette sitatet, om en helt annen bok med samme tema:
I admire Arin's bravery in writing about his journey from female to male, and writing frankly about his romantic relationships. But the whole book has a dry, journalistic tone: there's something about it holding the reader at arm's length. There's a lot of discussion of the personal journey, but lacks the heart, the emotional connection. He tells us his thoughts and feelings, but the showing part doesn't really happen–he tells us what's in his head but we never really get inside it ourselves.
Fra Brandys omtale av Some Assembly Required av Arin Andrews.
Jeg tar med sitatet fordi det beskriver det jeg føler om denne boka, og om Alex Berties Transmission. Det er veldig bra at disse bøkene finnes, at disse historiene om hvordan det også kan være å være menneske er tilgjengelige for oss alle, men…. men… Jeg skulle så veldig gjerne ønske at boka i seg selv engasjerte meg emosjonelt. At det var mer en følelse av at boka fikk meg til motvillig å bli engasjert og involvert i stedet for at jeg gjerne vil være engasjert og involvert og derfor prøver å presse de følelsene ut av boka.
En noe blandet leseopplevelse, altså.
Jeg er fortsatt på utkikk etter flere memoarer, men jeg kommer til å lese gjennom omtaler før jeg kjøper flere, og har de denne typen kommentarer kommer jeg nok til å bla videre… Og jeg må vel innrømme at jeg håper å finne noen som er skrevet av folk som er nærmere meg selv i alder, i alle fall ikke så unge at jeg kunne vært moren deres.
Boka har jeg kjøpt sjøl.