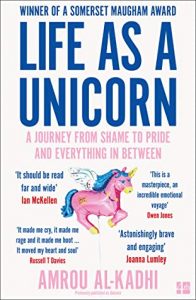 Jeg kom over Life as a Unicorn av Amrou Al-Kadhi ved en tilfeldighet når jeg var på jakt etter julepresang til pappa i desember. Blikket mitt ble fanget av ryggen på boka, og det tok ikke mange setningene fra teksten på ryggen for å overbevise meg om å legge den til bunken av bøker jeg skulle ha med til kassa.
Boka starter på slutten, med en historie fra Amrous karriere som Glamrou, en slags «happy end to set the mood» og som gjorde at den første gangen boka fikk tårene til å trille hos meg var på side 5. Under en opptreden under Edinburgh Fringe får Glamrous drag-gruppe uventet en gruppe «synlig muslimske» kvinner som publikum:
When I dared glance out in front of me, the mother of the group seemed to be repenting in prayer on my behalf. I started to ricochet around a mental labyrinth of paranoia, the consorious voices from my childhood chattering loudly in my mind. As my past enveloped me, the empowering armour of my drag began to dissolve rapidly. I stumbled over my lines, tripped on my heels – more than once – and even welled up onstage (which caused the eyelash glue to incinerate my cornea). The rest of the drag queens – as well as the audience – were white, so it felt as if the Muslim women and I were operating on a different plane of reality from everyone ese, one where only we knew the laws.
(Side 4) Etter showet kommer kvinnene bak scenen for å snakke med hen, og det viser seg at de var positive og henført, snarere enn fordømmende.
Historien setter scenen for boka. For visst er det en fortelling om å vokse opp som skeiv og med et karrieredrøm som faller utenfor normen, men det er også i aller høyeste grad en historie om å vokse opp som muslim. Den kronologiske historien som følger introduksjonen tar oss fra barndommens Irak, til tidlige tenår i London, to år på Eton,  studentliv ved Cambridge og tilbake til London igjen.
Amrou oppdager tidlig at hen er tiltrukket av gutter, Macauley Culkin i Hjemme alene er hens første crush, noe som fører til en av de første store familiekranglene i boka. Amrou buser ut med forelskelsen til Majid, farens venn som er sammen med Britiske Lily og har en omgangskrets som består av blant annet homofile menn. Med Majid er ingen trygg person å betro seg til, han involverer kjapt Amrous foreldre:
'Exactly,' said Majid, with a self-satisfied grimace that even today makes me want to go back in time and whack his face with a slab of raw tuna. 'You just want Macaulay Culkin to be your friend. You didn't know what you were saying – you were being stupid.'
With Lily's eyes now fused to the ground, my dad sinking into the sofa as if it were quicksand, and my mother wearing the expression of a traumatised soldier just returned from war, I decided just to say this: 'Yes. I was being stupid. I didn't know what I was saying.'
(Side 49) Amrou lærer at hen må skjule sitt virkelige jeg overfor familie og venner. I kombinasjon med innlært skam over ikke å leve opp til Allahs strenge regler for hvordan en muslimsk gutt skal te seg, er det ikke så rart hen griper etter alle muligheter til å ta kontroll over eget liv. En arena hen kan kontrollere er skolearbeidet:
The decision was made, almost as if I had never believed in anything else: I can control how hard I work at school. If I get 100 per cent in everything, then maybe I won't feel wrong any more. And even if my family think I'm wrong, I'll have proof that I'm not because I'll get straight As.
(Side 58) Som et resultat jobber hen seg nesten til døde, men oppnår også å få en plass ved Eton de to siste årene før universitetet. Eton blir et ledd i Amrous forsøk på å frasi seg sin irakiske og muslimske bakgrunn, hen vil være engelsk og går så langt som til å late som hen er katolikk (ved å gjøre korsets tegn over maten, blant annet – ofte i feil rekkefølge, riktignok). Portrettet av livet ved Eton er fascinerende, fordi Amrou som forteller både er fremmed for mange av forventningene og tradisjonene, men samtidig desperat etter å passe inn.
Ved Cambridge får Amrou større frihet til å leve sitt eget liv, og starter en drag-gruppe og utvider omgangskretsen av skeive folk. Men hen er fortsatt avhengig av foreldrenes økonomiske støtte, og hen er også fortsatt bundet av internalisert skam. Etter en opptreden som Glamrou i London i en ferie blir han igjen «outet» til foreldrene av Majid, og denne gangen fører det blant annet til at de fjerner alle klesplagg fra skapene hens som kan beskrives som det aller minste «flamboyant».
'Amrou. You seem so… confused about your life. What do you really want?' I sat with this question for a long moment, intending to answer it genuinely. 'I just want to be with someone and for them to love me.'
Of course they both knew that this 'someone' I referred to wouldn't be a future wife, and after they searched for something to say, my mother came out with: 'It would be unfair for you to inflict yourself on somebody. You're impossible to love.' I already fully believed this, but that didn't make hearing it any less devastating.

When I went back to Cambridge for the start of my third year, drag seemed the only way to numb the pain of that brutal familial blow-up – moments in drag made me feel, on even just a superficial level, worthy of love (which I equated only with applause). But it was also the drag that was worsening the dynamic in my family – was it an unsustainable high that made the lows of my life more intense? Drag felt like a glittery Hello Kitty plaster covering up an oozing wound of rejection beneath, and whenever I ripped it off, the wound grew more infected. There was, as a result, a marked contradiction between my external and internal selves. And this led to some surprising and often saddening behaviours.
(Side 196) Amrou sliter med å knytte seg til andre emosjonelt, noe som både fører til giftige (toxic) romantiske/seksuelle forhold, men også går hardt ut over vennskap. Til tross for at hen er rollemodell for andre skeive og en slags inspirasjon som gjør at de tør å komme ut, er hen så full av selv-hat at hen ikke kan glede seg med dem.
Within the year of his coming out, he won the support of his parents and found the joys of sex. While I held my mother's belief that 'it would be unfair to inflict myself on anyone', here Dennis was, able to negotiate intimacy as if it weren't some unpredictable home-made bomb device. This was something I had no clue how to do. The idea of being emotionally intimate with somebody felt as alien to me as sci-fi.
(Side 204) Det er først når hen flytter tilbake til London etter studiene og gjør seg økonomisk uavhengig av foreldrene at Amrou klarer å begynne å virkelig også løsrive seg fra forventningene både utenfra og internalisert som de og hele kulturen de representerer stiller. Å møte andre unge muslimer som også har trosset forventningene hjelper, og å finne religiøse grupper som har andre tolkinger av Koranen enn den konservative versjonen hen har vokst opp med hjelper også.
Dette er en sånn historie som jeg er takknemlig for å ha fått lov til å lese. Den får meg til å føle at jeg har lært noe, at jeg har blitt et klokere og mer empatisk menneske. På grunn av Amrous identitet og bakgrunn gir hen meg som leser større innsikt i hvordan det er å leve som skeiv, som muslim, som farget person (hen bruker selv «person of colour») i Britisk underholdningsindustri, som barn av to kulturer og faktisk også som kvinne (analysene av morens liv og lære gir uvante perspektiver på kvinnerollen).
Boka har jeg kjøpt sjøl.