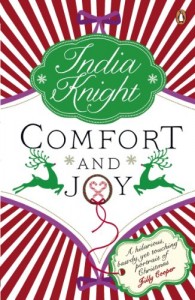 Amazon has sent me no less than three emails recently suggesting I might want to buy My Life on a Plate by India Knight, which is silly of them because I already have it – I even think I purchased it from them to start with, though I can't guarantee that. At the same time they COMPLETELY failed to tell me that India Knight has a new novel out. Luckily I follow @indiaknight on twitter and she told me herself that it was now out in pocket. And people wonder why we need twitter. Sheeesh. Anyway, a few clicks later, a couple of days waiting and bam, there it was in my hands and I fell to it as soon as I finished Helle Helle.
Comfort and Joy lives up to its title, it is nothing less than a feelgood book, and I strongly suggest you treat yourself to it in the run-up to Christmas. It is absloutely the best book you could curl up with in the moments between shopping for last minute gifts, dressing a turkey or worrying about how to get the svor on the ribbe properly sprø (yes, you'd have to be Norwegian to understand that last bit, at least to understand the importance, suffice it to say it's one of those things that is essential to making Christmas perfect for a lot of people). And if you are too busy with the cleaning, shopping cooking and worrying about sprø svor, then the book will also be a very, very good companion for those peaceful moments that usually happen somewhere between the 25th and the 30th of December*.
The action is set at Christmas in the household of Clara Dunphy – three consecutive Christmases (or Christmi** – oh, I love that word, I think I will adopt it), in fact. I called it a feelgood book, and it is, despite the fact that to a large extent it is about divorce, and how divorce affects both children and adults.
And may I say I adore Clara?
'I observe that you are,' he says. 'You're very good at holding it together. Always were.'

Wrong thing to say. Just because I'm not doing ugly crying with nose stuff doesn't mean I have no feelings, the git. Second, it's so easy to tell someone what they're like – it exonerates you from having to do any thinking or empathizing: 'Oh, Clara, she's absolutely fine, because she's really good at holding it together. Me, on the other hand… Me, I'm sensitive.' I mean: fuck off.
(p. 105) Yes, I know that gut reaction. I've never had to handle divorce (not my own, nor my parents'), but I'm the sort of person who's pretty good at holding it together – in public, anyway – and I HATE it when people suggest that that means I don't really feel anything, or that they somehow deserve more sympathy because they break down and cry instead of holding it together. How about I get some credit for holding it together DESPITE having a shit time? (Which is not to say I have a shit time a lot, life is pretty good, but, you know?)
The following is a quote related to stepfathers and what happens if they break up with your mother. Quite often, of course, that's basically the last you see of him if you're the child, nevermind he functioned as you father in everything but genetic material for years and years. Even in so-called well-adjusted families where the adults make an effort, there is no denying that the child's claims on a stepfather are far from the same as that same child's claims on a biological parent, and also that if you're really unlucky you may end up with a series of stepfathers, all suddenly disappearing from your life.
This is the difficulty with stepfathers, I think to myself. They come with their own detonators built in, and as a child you have absolutely no idea if – or when – the detonator's going to detonate. So you put all your eggs in that particular basket – well, your one egg. Your Egg of Self. One egg, one basket, like one man, one vote. You put your egg in the basket called 'my new daddy', and you think, 'Well, there's my Egg of Self, I don't know why I made such a fuss about putting it there: it's so happy in the basket. Everything's fine. The egg, and the basket are a pretty good match.' Sometimes this goes on for ever, in which case everybody is extremely fortunate. But sometimes something comes along and BOOM. Your egg is smashed, tipped out of its cosy basket through no fault of you own. 'Where's my new daddy now?' you think, lying on the ground, which frankly isn't a very nice thing for any child to think.
(p. 160) Clara and her family handle all the complications of splitting up better than most, I think, which is one of the reasons this book is so lovely: It presents a picture of how these things can actually be handled without big drama and children who are traumatised by parents demanding that they chose «whose side they're on». I don't know that I could be that sensible about it myself, but I would sure try if ever I have to – god forbid I ever have to, though.
And did I mention that I love Clara? This is one of the reasons why:
I am astonished by air travel. Astonished. I know it's the twenty-first century and even babies are used to long-haul flights, but I genuinely marvel every time at the fact you were in place A not so long ago and now you're in place B, in a whole other country – continent, in our case. It strikes me as one of those things that is actually a proper miracle – albeit one that can be explained
(p. 193) Isn't it just? You know something else that is magical, though it can be explained? Mobile phones. This struck me a few years ago when I was standing in a supermarket and got a call from my dad. I asked «Where are you?» and he answered «Montreal.» And it did, literally, sound like he was standing next to me. And no cords or anything! Magic, I tell you. (As my father has travelled a lot I have been used to calls throughout my childhood with crackly lines and several seconds lag – and an echo, if you're really in luck. A clear reception in itself is therefore still something of a novelty.)
This is hardly a coherent review, is it? My apologies. Suffice it to say I loved this book, I laughed and yes, I did cry (on the bus, just a little, towards the end, but nonetheless), and I think you ought to read it.
_____________________
* I should point out that it doesn't HAVE to be Christmas time for the book to work, even if I just made it sound like that. It's a bit like the film Love, Actually, which works any time of year but possibly especially well at Christmas, since that's when it's set.
** One of Clara's little sisters used to believe it was spelt Christmus, in which case the plural, naturally, would be Christmi.