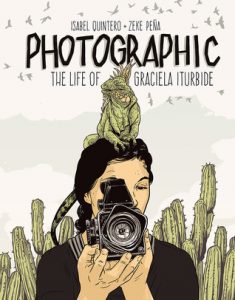 Jeg har vært på salg på Outland igjen… Det ble bare en bok (vel, tre, men de to andre var ikke på salg) denne gangen, Photographic: The Life of Graciela Iturbide var satt ned fra 269 til 50, og siden grafisk sakprosa er noe jeg gjerne leser var det et opplagt kjøp.
Jeg har aldri hørt om Graciela Iturbide før, som jeg kan huske, men jeg har følelsen av at jeg har sett noen av bildene hennes. Flere av dem gjengis i boka, og det er noe kjent med dem.
Iturbides historie fortelles i «kapitler» i jeg-form, med «hviletekster» mellom kapitlene i tredjeperson som gir mer utvetydige fakta. Kapitlene er mer poetiske og filosoferende, og gjør et forsøk på å få et grep på hva kreativitet og skapelsesprosess er. Illustrasjonene underbygger og bygger videre på teksten, og det er tydelig at Zeke Peña har studert Iturbides fotografier, for tonen i strektegningene matcher fotografiene sømløst.
Jeg ble helt klart nysgjerrig på Graciela Iturbides fotografiske bøker av å lese denne biografien, og da er vel muligens poenget med boka oppnådd.