Som nevnt i innlegget om The Land of Green Ginger bestemte jeg meg spontant for å bli med på runde tre av #Riordathon2020, The Percy Jackson edition, organisert av @bokpanda, @bookstrider og @lesehjornet siden den ene boka slo ikke bare to, men seks fluer i en smekk. Forsvarlig behandling, som jeg allerede hadde lånt fra biblioteket, passet perfekt inn på oppgaven "anbefalt av en venn", og siden det er det eneste punktet som må oppfylles av en bok som ikke brukes på flere punkter har jeg ikke engang vurdert om den oppfyller andre krav. Nå holder jeg på med The Outlaws of Sherwood av Robin McKinley, det er både gjenlesing og gjenfortelling og oppfyller derfor punkt 4 dobbelt opp, og dessuten punkt 11. Deretter har jeg en slags plan om å lese Min vei, Ruth Reeses selvbiografi som jeg ble tipset om på Twitter for noen uker siden. Den fikk jeg tak i i hardcover hos min lokale bruktbokpusher, så den dekker i alle fall oppgave 1.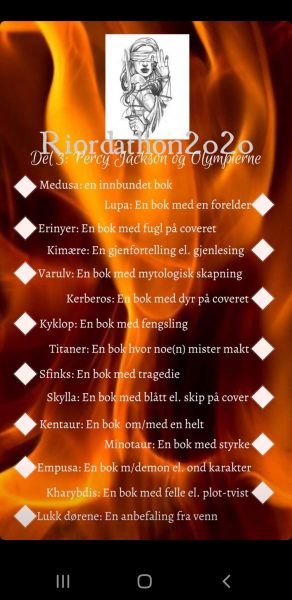 Etter det får vi se. Jeg har fram til slutten av januar, så det skal ikke stå på tiden, nødvendigvis, men jeg skal helst finne bøker på TBR som passer til de siste oppgavene, jeg trenger ikke egentlig å få lagt bøker til TBR, kan du si. Men det gjenstår bare fem punkter, og siden man kan velge seg både våpen og "forelder" og dermed påvirke oppgaveinnholdet virker det ganske overkommelig. Det er naturlig for meg å velge enten sverd eller bue og pil, siden jeg "kan" å bruke begge IRL, og siden jeg alt har dekket "furies" som bua eliminerer er det vel smart å velge sverd… Da kan jeg kutte ut den oppgaven jeg ønsker. Av gudommelige foreldre faller det nærliggende å tenke at jeg nok hører hjemme hos Dionysos/Bacchus, med tanke på hva jeg blogger om i tillegg til bøker. Da kan jeg dessuten kutte ut enda en oppgave ved for eksempel å ta meg en whisky, og det er vel lite sannsynlig at jeg ikke skal ha meg en whisky en eller annen gang i løpet av januar.
Har du også lyst til å bli med på lesemaratonet anbefaler jeg å sjekke instagramkontoene til arrangørene (altså @bokpanda, @bookstrider og @lesehjornet). De har alle detaljer i høydepunkter i stories. For oversikt over oppgaver sjekk pdf på google drive og for oversikt over gudommelige foreldre og hvilke fordeler de gir kan du sjekke nettsiden: Godly parent guide.
Min liste så langt:
1. Medusa: read a hardcover book – Min vei
2. Lupa: read a book with a parent character – The Land of Green Ginger
3. Furies: read a book with a bird on the cover – The Land of Green Ginger
4. Chimera: read a re-telling or a re-read – The Outlaws of Sherwood
5. Lycanthrope: read a book with a mythical creature – The Land of Green Ginger
6. Cerberus: read a book with an animal on the cover – The Land of Green Ginger
7. Cyclopes: read a book with imprisonment – The Land of Green Ginger
8. Titans: read a book where someone/something is overthrown
9. Sphinx: read a book with a tragedy
10. Scylla: read a book with a blue cover, or a ship on the cover/in the title
11. Centaur: read a book about hero – The Outlaws of Sherwood
12. Minotaur: read a book with a strength
13. Empusa: read a book with demons or an evil character – The Land of Green Ginger
14. Charybdis: read a book with a trap or a plot-twist
15. To close the doors: read a book recommended to you by a friend. This is the one that can't be doubled, it has to be one of a kind to close the Doors of Death – Forsvarlig behandling