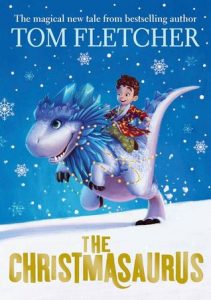 As noted I finished This is How You Lose Her on my way to London, so I found myself without anything to read once we arrived, which left me feeling vaguely panicky. Not that I had much time for reading, but it's the principle of the thing. Anyway, on our first morning we went on an expedition to a reasonably sized Sainsbury's where I found The Christmasaurus. The book has been all over my Twitter feed for the last few months, so I did not hesitate in picking it up. By the time we left London it had been joined by rather a lot more books (most are shown here on Instagram, but despite my misgivings about luggage space I managed to squeeze in a couple more). Anyway, I read all of… 20 pages or so while in London, but rather more on the trip back, in fact I finished The Chistmasaurus on the flight into Trondheim and was left twiddling my thumbs the last half hour or so.
While it would certainly be more appropriate to read The Christmasaurus in December, reading it in February worked well enough. According to Goodreads:
The Christmasaurus is a story about a boy named William Trundle, and a dinosaur, the Christmasaurus. It's about how they meet one Christmas Eve and have a magical adventure. It's about friendship and families, sleigh bells and Santa, singing elves and flying reindeer, music and magic. It's about discovering your heart's true desire, and learning that the impossible might just be possible.
Which sums it up quite nicely. I like William Trundle and his father. I like the Christmasaurus and its elf friends. I think some of Fletcher's explainations for how things work, like how the presents from Santa actually get «produced», are delightfully quirky and inventive. I have a bit of a problem with the solution to the whole Hunter debacle, but I do like the solution to the other «villain», Brenda Payne. And all the talk about crumpets made me hungry (and I had to google crumpet recipes).
Shane Devries' illustrations are quite wonderful, some of the expressions on the Christmasaurus' face being especially delightful, like here: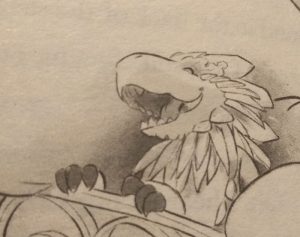 All in all, a pretty good read, and I'm sorry I didn't pick up The Creakers when I saw it (though my luggage allowance is not sorry).