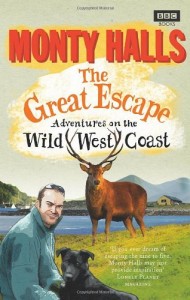 Any book about Scotland is immediately interesting to me, so I didn't need to think long about purchasing Monty Halls' The Great Escape: Adventures on the Wild West Coast when I came across it.
The premise is fairly straight-foreward: Monty Halls goes off to the west of Scotland to live «like a crofter» for six months. He finds an old bothy to fix up – renting it from the estate it belongs to – and sets about his task with good cheer. What ensues are plenty of stories involving the locals, the livestock he aquires, the gardening he attempts, and – not least – Scotland's nature, both inanimate and very much alive. The tales are told with self-deprecating humour and a love of the country and people which is almost palpable, and makes for pleasant reading.
The congers have a reputation for ferocity that is based entirely on its thrashing death troes on the deck of many a fishing vessel. They react in much the same way you or I would if dragged from our homes and clubbed to death, being somewhat miffed by the process.
Indeed.
My one gripe, if gripe it can be called, is that – as Monty Halls himself points out – to really test his mettle as a crofter he should have spent the winter months in the bothy. As it is, he skims the cream, so to say (not to suggest it's some sort of luxury holiday – it ain't). As nice as it is to read about the six months sojourn, the book would have been more interesting had he extended his stay to include the next six months as well.
Not that I'd want to do so myself, I'm far too fond of my creature comforts, but then the whole point of books like these is surely to live vicariously through someone else?
Still, a very pleasant and suitably informative read, making me look forward to my next trip to Scotland, whenever that will be.