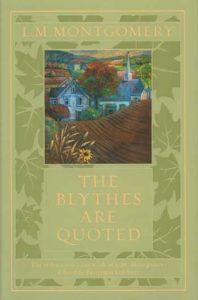 Som nevnt brukte jeg mye av mars på gjenlesing av Anne of Green Gables, hele serien. Det vil si, jeg hoppet over Chronicles of Avonlea (mulig det blir en kikk på den nå i april), men leste Anne of Green Gables, Anne of Avonlea, Anne of the Island, Anne of Windy Willows (som heter Anne of Windy Poplars egentlig, jeg har en britisk utgave med alternativ tittel), Annes House of Dreams, Anne of Ingleside, Rainbow Valley, Rilla of Ingleside og The Blythes are Quoted. De fleste av dem har jeg lest flere ganger enn jeg har tall på. Først i norsk oversettelse, Anne fra Bjørkely hadde jeg selv i Bokklubbens barn-utgave, resten lånte jeg på biblioteket (minus Anne of Windy Poplars og Anne of Ingleside, de tror jeg muligens ikke er oversatt?). I… 1998 eller deromkring kjøpte jeg dem i pocket på engelsk, da hadde jeg nok ikke lest dem på ti år og vel så det, men etterpå har jeg lest dem om igjen jevnlig, kanskje 4-5 ganger siden det. The Blythes are Quoted har jeg bare lest en gang før. Jeg oppdaget bokas eksistens i 2016 og bestilte umiddelbart et eksemplar via ABEBooks (selv om jeg strengt tatt prøver å unngå å bruke dem, siden de er kjøpt opp av Amazon. Det finnes en alternativ versjon av denne "siste Anne-boka", med tittelen The Road to Yesterday, men The Blythes are Quoted skal være mer komplett. Begge er basert på Montgomerys etterlatte manuskript.
The Blythes are Quoted er ikke en roman, men en samling historier som foregår i nærmiljøet til "The Blythes", første halvdel før og andre halvdel etter første verdenskrig. Mellom historiene er det dikt skrevet tillagt Anne eller sønnen Walter som Anne leser høyt for familien foran peisen på Ingleside. Etter diktene er det små dialoger eller replikker (tenkt eller uttalt høyt) fra familiemedlemmene. Som for eksempel når Gilbert tenker (på side 370) etter et av Walters dikt:
"Why is it that young people always like to write poetry about being old and tired?"
Ingen av historiene handler om familien Blythe direkte, men de nevnes både i beundrende og i kritiske ordelag. Av og til som et vesentlig poeng, som når "heltinnen" i The Reconcilliation (på side 261) "tenker":
Miss Shelley could not conceive of Mrs. Blythe cherishing bitterness for thirty years. She liked her, but she thought her too shallow for that. She had been heard to say that it was a pity Dr. Blythe had not selected a woman of deeper nature for his wife.
For oss som kjenner Anne er det jo ganske kostelig å kalle henne grunn, men jeg må gi Miss Shelley rett i at hun neppe hadde bygd livet sitt rundt bitterhet i tredve år.
Andre ganger nevnes navnet Blythe uten at det ville gjort noe videre for betydningen av setningen om det ble byttet ut med et annet, som i Penelope Struts Her Theories (på side 224):
"There may be something in it," said Dr. Galbraith, who had once remarked rather cynically to Dr. Blythe that the secret of any success he might have had was due to the fact that he always advised people to do what he knew they really wanted to do.
Historiene er i en form som er kjent for deg om du har lest de mer "episodiske" bøkene om Anne. Det er mye forvirret romantikk, manipulative slektninger og desperate foreldreløse. Eller som redaktøren av denne utgaven, Benjamin Lefebvre, sier i etterordet (side 513)
Readers who have enjoyed Montgomery's larger body of work (…) will in fact recognize much that is familiar in this final book. It picks up familiar story patterns, such as orphans yearning for healthy homes, marriages culminationg after years of delay, the creation of alternative families, and the resolution of past grievances and misunderstandings.
Jeg liker det, selv om historiene er av varierende kvalitet er det nok av Montgomerys vidd og skarpe observasjonsevne til å gjøre lesingen fornøyelig. Stakkars Anthony som nærmest kidnappes av sin barndoms heltinne Caroline (som har blitt en smule gaga med alderen) i A Dream Comes True (på side 192) fikk meg til å le:
"I suppose you know the earth is flat?" she said, lifting the dagger.
"Of course it is flat," agreed Anthony hastily.
"Perfectly flat?"
"P..perfectly."
"What liars men are!" said Caroline. "There are hills on it."
Og denne setningen fikk meg til å lure på om Montgomery var enig med Wodehouse når det gjelder tanter:
Uncle Frederick Brewster was a thin, beaten little man of no importance. But Aunt Fanny was every inch an aunt.
(Fra The Cheated Child, side 274.)
Diktene er kanskje det i boka som gir meg minst, det er vel ikke uten grunn at det ikke er dikter Montgomery først og fremst er kjent som. De er helt ok, altså, men til dels i overkant sentimentale og mangler snerten hun viser i prosa.
Hvis du ba meg om å gi deg en liste på mine topp tre romantiske par i litteraturen ville den sett ca slik ut:
1. Lord Peter Wimsey & Harriet Vane
2. Anne Shirley & Gilbert Blythe
3. Anne Elliott & Captain Frederick Wentworth (eller Elisabeth Bennet & Mr Darcy, men jeg tror jeg holder en knapp på Anne)
Og det er nettopp den lange historien, det at du får se dem leve "happily ever after" i tillegg til en opptakt der personlighet og intellekt er med i bildet som er fellesnevneren her (ok, vi får ikke "happily ever after" i Austen, dessverre). Og slikt er det alltid for lite av, bøkene er alltid for korte. Og jada, jeg begynner på nytt og leser dem om igjen, men det er alltid en ny liten sorgprosess når jeg kommer til slutten. Og da er utvekslinger som dette uvurdelige (side 479):
Dr. Blythe:- "Yes, one can believe in anything in spring, thank God. I remember in the old days, Anne, I used to believe in spring that I could win you, in spite of everything."
Jem Blythe:- "Great snakes, dad o' mine, you don't mean to tell me that there was ever any question about that!"
Lefebvre er forresten ikke enig med meg, så vidt jeg kan tolke utsagnene i etterordet om Anne of Ingleside:
(…) two storylines involving marital hatred and disintegration, including Anne's suspicion that Gilbert has lost interest in her. These suspicions are proven in the end to be unfounded, but many adult readers have found the happy ending to be unconvincing.
(Side 516.) Nå har jeg jo nettopp lest Anne of Ingleside også, og jeg kan ikke skjønne hva i himmelens dager han fabler om med "two storylines involving marital hatred and disintegration". Episoden der Anne føler at Gilbert har mistet interessen for henne opptar bare et kapittel eller deromkring, og DENNE voksne leseren synes absolutt slutten er overbevisende, og sliter veldig med å forstå at man skal kunne beskrive det (på noe som helst tidspunkt) som "marital hatred", og hva den andre storylinen liksom skal være vet jeg ikke. Wikipedia er enig med meg. Kanskje jeg må lese boka enda en gang?
Lefebvre har også en, for meg, uforståelig utgreing om Anne og Gilberts skoledager (på side 518):
As well, readers who applaud Anne when she breaks her slate over Gilbert's head in Anne of Green Gables may be disappointed to read Gilbert's verson of these events so many years later, as revealed in their discussion of "Farewell to an Old Room": "Your mother thought she had a grudge against me, but I always wanted to be friends." Equally disappointing, of course, is the fact that Anne offers nothing in reply.
Altså, "krangelen" mellom Anne og Gilbert går da ganske snart over i en form for… om ikke akkurat flørt, så i alle fall en "Ten things I hate about you"-greie? Hvem gidder å rivalisere så beinhardt over skolearbeid med noen man ikke bryr seg om i det hele tatt? At Gilbert hele tiden ønsket vennskap snarere enn krangel trodde jeg dessuten var en vedtatt sannhet. Og Anne sjøl sier, rett før replikken Lefebvre siterer (side 210):
"And even in our schooldays when we were such enemies I think I wanted you to see me looking as nice as could be."
Noe som ikke akkurat roper likegyldighet.
Men, det er altså bare etterordet, og det kan du jo droppe å lese om du vil. Er du Anne-fan synes jeg du skal lete opp The Blythes are Quoted.
Boka har jeg kjøpt sjøl.