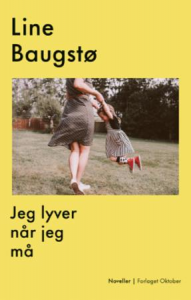 Siden jeg faktisk likte Baugstøs Musikk for rasende kvinner, til tross for at det var en novellesamling, plukket jeg med meg Jeg lyver når jeg må fra nyheter-hylla på mitt lokale bibliotek i håp om at den kanskje kunne treffe meg like godt. Det gjorde den ikke. Det startet bra, jeg likte de to første novellene, og den aller siste var ikke så helt dum, men to av dem ble jeg bare irritert over hvor sluttet og resten var… meh.
Såeh. Ja, jeg skal nok prøve meg på Baugstøs romaner, men hun har dessverre ikke frelst meg på noveller likevel.
Og det var det, det var omtalen.