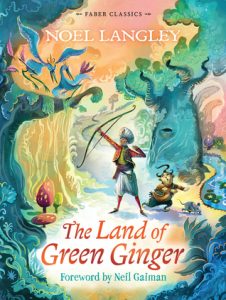 The Land of Green Ginger av Noel Langley er riktignok bare delvis grønn utenpå, men siden den har ordet grønn i tittelen tenkte jeg den fikk godkjennes som januarbok i @grefvinnans #färggladahyllvarmare – en utfordring på Instagram. Den har i alle fall stått på hylla i noen år, kjøpt – selvsagt – fordi Neil Gaiman har blurbet (og skrevet forord). Først utgitt i 1937, revidert og forkortet i 1966 og deretter forkortet enda mer, har den visstnok ikke vært 'out of print' siden den kom ut. Utgaven min har teksten fra 1966.
På Goodreads er mange veldig entusiastiske, på lik linje med Gaiman, men jeg tør vedde på at majoriteten av dem har lest boka som barn og har et nostalgisk forhold til den, for i '66 (og '37) var nok dette ganske orginalt og spennende, men med 2021-øyne er dette… vel. Det er pur eksotisering av orienten, det hadde ikke akkurat vært vanskelig å rive den i fillebiter med postkoloniale briller.
Historien er tydelig inspirert av 1001 Natt, og hovedpersonen er Aladdins sønn Abu Ali. Bokas handling og «cultural appropriation» strekker seg fra Persia og Arabia via Samarkand til Kina (der Aladdin av en eller annen grunn er keiser), og ikke bare fremstilles det som at disse statene er maks et par dagsreiser (på kamel eller til fots) fra hverandre, men navnene til persongalleriet er ordlek med klisjemessig arabisk-, persisk- og kinesisk-lydende ord uten videre logikk i hvor personen kommer fra og hva hen heter (som de onde prinsene Tintac Ping Foo og Rubdub Ben Thud fra hhv Persia og Arabia). Ser man bort fra det er historien forsåvidt søt og til dels underholdende, men handlingen er styrt av tilfeldigheter og usannsynlig flaks og uflaks. Det eneste positive jeg kan si er at det er et par morsomme hendelser helt i starten; «the special meetings of state» er ganske fornøyelige, og at Langley får til vellykket lek med språket når han bare holder seg til engelsk i stedet for tulle-orientalsk (de to onde prinsene blir introdusert som «vapid, villainous, vindictive, vengeful, vexatious, wilfully wicked» og «small, fat, footling, fatuous, infantile, infuriating, wantonly wicked» for eksempel).
Aldri så galt at det ikke er godt for noe: Jeg hadde såvidt begynt på The Land of Green Ginger når jeg oppdaget at del tre av #riordathon2020 (organisert av @bokpanda, @bookstrider og @lesehjornet) var i gang, og boka gjør faktisk at jeg kan krysse av hele seks av punktene på lista, så da bestemte jeg meg brått for å bli med. Det krever riktignok litt mer gjennomtenkte valg for resten av bøkene jeg skal lese framover, men det skal vel være mulig å få til noe.
Boka har jeg kjøpt sjøl.