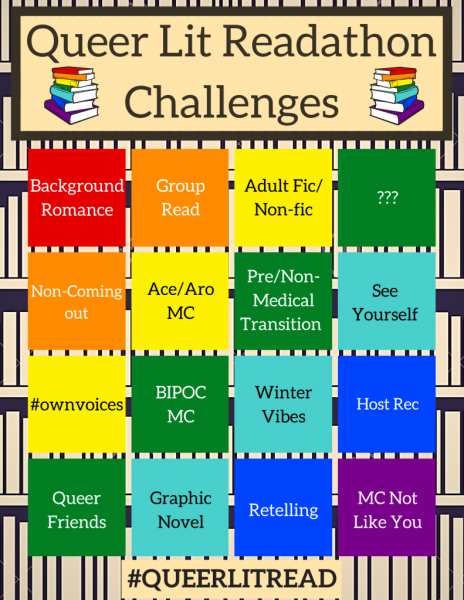 Background Romance: Meaning a book where the romance isn't the point of the book, it's just there.
The Deep by Rivers Solomon has been suggested on the @queer_lit Instagram, and I recently purchased it.
Group Read: Summer of Everything by Julian Winters.
I've ordered this (and Only Mostly Devastated, see below), just hope it gets here in time.
Adult Fiction/Nonfiction: Read an adult book that is either fiction or nonfiction.
Love Lives Here by Amanda Jette Knox, also ticks the box for Nonfiction November.
???: Choose Your Own Category – tells us what it is in your TBR
Hør her'a by Gulraiz Sharif. This autumn's big thing to talk about here in Norway.
Non Coming Out: Read a story that does not have a coming out
Ace/Aro MC: Read a book with an asexual/aromantic main character.
I belive Radio Silence by Alice Oseman will work here, but I'm not sure. I'd read Loveless, but as I just read it it seems like cheating to read it again.
Pre/Non-Medical Transition: This means a trans main character that is pre medical transition, or one that has no desire to physically transition.
George by Alex Gino.
See Yourself: Read a book where a character shares an identity of yours.
The Ace/Aro book will do here, though I guess I'm demi- rather than completely a-.
#ownvoices: Read a book that has been written by an author with that identity
BIPOC MC: Read a book with a main character that is Black, Indigenous, or a person of color.
The Black Flamingo by Dean Atta – would also tick off #ownvoices, I guess?
Winter Vibes: Read a book that gives you feelings of winter.
This Winter by Alice Oseman.
Host Rec: Read a book recommended by one of the hosts
Well, I guess The Deep would count here.
Queer Friends: Read a book about queer friends
Can I reread? Laura Dean Keeps Breaking Up With Me would tick off both this and the graphic novel prompt, and I feel like I should reread it anyway, I sped through my first read (I always do). Come to think of it, it'd do for non-coming out, too. I'm open to suggestions, though (though I'm running short on time to get hold of new books).
Graphic Novel: Read a graphic novel
Retelling: Read a retelling of a fairytale, classic story, or the such.
Only Mostly Devastated by Sophie Gonzales as recommended by @queer_lit sounds like fun and is a possible candidate.
MC Not Like You: This is open to of a different sexuality, gender identity, nationality, ethnicity – just read diversely
Well, let's say The Black Flamingo for this one, too.
Expect changes, but at least I have a plan… Sort of.
TBRs from other participants (lots of tips for books to read in the future here!):