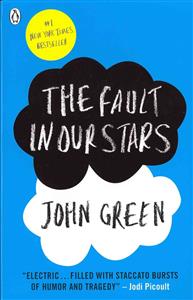 I finished The Fault in Our Stars a month ago, and the reason I haven't blogged about it is twofold. Firstly, my blogging energy has been engaged in another project, secondly, I haven't been quite sure what to say about it, or even how I really feel about it.
Sure, it's a lovely book. I even cried a little towards the end. But the hype got the better of me, I guess, because I was left feeling a little disappointed. I liked it, but I guess I didn't really love it. Certainly not with the all encompassing love evident almost daily on my Tumblr dashboard.
So will I read more of John Green's books? Probably. And I'll keep The Fault in Our Stars around for the lasses' enjoyment, perhaps reading it at 14 or so will be more of a life-changing event than reading it at almost 40.