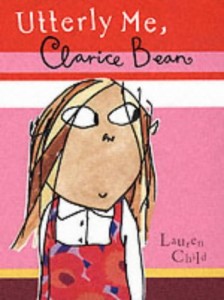 Utterly me, Clarice Bean was near me on the shelf when I suddenly found myself with a sleeping baby on the couch and no current read within reach. I figured it would be alright to start it since it was likely to be a quick read, which it was.
I enjoy Lauren Child's style, something I know from having sat through quite a few Charlie & Lola episodes on children's tv. I like the whimsical element (though I admit it sometimes seems a bit forced). Clarice Bean is very similar, and Clarice could be Lola a few years down the line, though Charlie is missing, having been replaced with three siblings, no less. Another difference is that Clarice's parents are actually present in the story. Still, they are very similar, and I keep hearing Lola's voice in my head as I read Clarice's story.
For all that it works pretty well. It is not, however, a children's book for grown-ups. I will not be reading any more (except maybe aloud to the lasses), but I might definitely buy them, as I suspect they will hit the spot when the girls reach the right age (in a year or two as far as the oldest goes, I imagine 8ish to be a good age to read this).