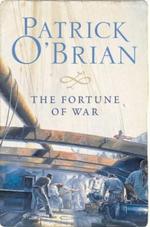 Well, ok, Tuesday. As challenged by Mari at Flukten fra virkeligheten – and on bokelskere.no – here is a quote from my current read, The Fortune of War by Patrick O'Brian:
Though they liked the notion of prize-money, they could not see much sense in fighting the Americans: there were half a dozen Americans aboard at this moment, and they were practically the same as Englishmen – no airs or graces about them – and you could not say fairer than that. Fighting the French was different; they were foreigners, and somehow it came natural.
Yes, I'm at it again. So now you know what I'm reading this month or so.