Nå er det lenge siden jeg sist serverte en smakebit, men her er i alle fall et lite utdrag fra Ben Goldacres Bad Science.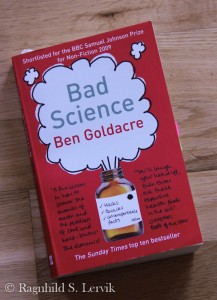 En del av Goldacres prosjekt er å forklare vitenskapsteori med eksempler fra det vi leser om i media – særlig medisin, både alternativ og etablert – for å gi leseren verktøy til å plukke fra hverandre dårlig vitenskap og dermed unngå å bli lurt. Følgende eksempel kommer fra ganske tidlig i boka og omhandler fuktighetskremer, der Goldacres poeng er at det faktisk er veldig få ting som egentlig hjelper huden bli hydrert og disse er såpass generelt kjent at selv den billigste fuktighetskremen inneholder alt du trenger. Det produsentene gjør for å kunne ta mer penger for produktet sitt eller kapre markedsandeler er å hive inn alle mulige merkelige ingredienser i et vagt håp om at de vil virke og pakke det hele inn i en kvasivitenskapelig sjargong.
(…) on any trip to the chemist (I recommend it) you can find a phenomenal array of magic ingredients on the market. Valmont Cellular DNA Complex is made from 'specially treated salmon roe DNA' ('Unfortunately, smearing salmon on your face won't have quite the same effect,' said The Times in their review), but it's spectacularly unlikely that DNA – a very large molecule indeed – would be absorbed by your skin, or indeed be any use for the synthetic activity happening in it, even if it was. You're probably not short of the building blocks of DNA in your body. There's a hell of a lot of it in there already.

Thinking it through, if salmon DNA was absorbed whole by your skin, then you would be absorbing alien, or rather fish, design blueprints into your cells – that is, the instructions for making fish cells, which might not be helpful for you as a human.
(s. 24) Her må man jo få lov til å påpeke at Goldacres innvendinger er så opplagte – hvordan skulle lakse-DNA kunne hjelpe huden min? – at vi må konkludere med at journalisten i The Times enten bare skrev av pressemeldingen fra produsenten uten overhode å absorbere informasjonen eller virkelig ikke har noen anelse om hva DNA er, bare at det høres vitenskapelig og flott ut.
Og nettopp medias framstilling av vitenskap, enten det er seriøs forskning eller kvasivitenskap fra kvakksalvere og andre som hovedsakelig er ute etter å tjene penger, er en av Goldacres 'pet peeves' som det heter på nynorsk. Og hvis du virkelig skjønner det han skriver blir det fort en av dine også, om det ikke var det fra før.
Her føles det passende å lenke til en kronikk i Aftenposten i går av Sunniva Rose: Skremmende at det er "greit" å skryte av hvor lite realfag man kan.
Flere smakebiter finner du hos Flukten fra virkeligheten.