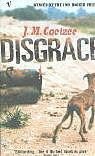 (I guess it would be appropriate to start this with a trigger warning for rape.)
Disgrace was our February read in the bookcircle, which is probably just as well because I don't think I'd ever have read it (and certainly not finished it) of my own accord.
David Lurie is an ageing professor at a university in Cape Town, teaching Communications since his orginial subject – literature – has been deemed too old-fashioned and the department shut down. He falls in lust with one of his students and has an affair of sorts with her, but is subsequently accused of harassment (rightly so, I should say). He refuses to apologise and therefore loses his job. To get away from it all he goes to visit his daughter Lucy, who lives «the simple life» in the Eastern Cape. She has help on the farm from Petrus, who is also developing the land next-door. David and his daughter do not have an easy relationship, it is clear that while he loves her, he does not approve of the way she choses to live her life. He does, however, get involved in her daily routine. That routine is broken when a gang of three attack the farm, stealing anything of value, setting fire to David and – David believes and we with him – gang-raping Lucy. After the attack, the differences between father and daughter increase, he wants her to get out of there while she wants to stay.
To start with I was pleasantly surprised. I liked David more than I had expected to, and although I did not approve of his relationship to Melanie (parts of which were dangerously close to rape), I rather liked his refusal to «issue an apology» – regardless of whether he meant it or not – in order to save the university's face and keep his position. Most of all I liked his way with words, and up until half-way through the novel I have marked several quoteworthy passages.
His temperament is not going to change, he is too old for that. His temperament is fixed, set. The skull, followed by the temperament: the two hardest parts of the body.
After that, though… At some point «liking» David becomes impossible. As far as trying to understand his daughter, well, he says he's trying, but he is not, really. However, I don't really like Lucy, either. I found her somewhat, well «boring» is not quite the correct word, but certainly not terribly interesting. All honour to her for chosing the simple life and being happy with it, but for one I felt her resignation to Petrus' encroachment had started long before the attack, and I also to a large extent disapprove of her handling of the attack just as much as her father does (though with an understanding that it would not have been my business to approve or disapprove, had this been real life, which he lacks).
And I do need someone to root for when I read, and there really isn't anyone once I lose all respect for David. Which is one problem.
The other problem is that I really don't understand what Coetzee wants with this book. What is he trying to say? I do realise this may say as much about me as about Disgrace, but still, it's my blog, so I will say it: The whole thing seems somewhat pointless to me. And it leaves a sour taste, too, as I feel that Lucy – much as I fail to really like her I do not wish her harm – is sacrificed in order to make a point about David's relationship to his daughter specifically and humanity in general. The attack is used to turn the spotlight on David's feelings and actions, rather than as the highligth of a plotline in itself. I guess what I'm saying is that I don't approve of rape as a literary device, especially one that just showcases the emotional angst of middle-aged white males.
Still, there is meat here, and I can sort of see why the novel is so celebrated. For me, though, it's a thumbs down.