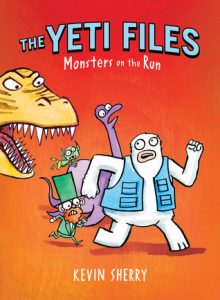 The book Monsters on the run from the Yeti Files series is written and Illustrated by Kevin Sherry. This book is a fiction book and I choose this book because the cover looked fun and I liked the name.
This story takes place in a fictional world with yetis, monsters and leprechauns. The story starts in their normal world and then they time travel 65 million year back in time to the age of the dinosaurs.
The main character's are a Yeti, Nessie and a golem. They travel back in time to find a friend for Nessie that is just like her.
In the start they play a game about a battle and then they get a letter from Nessie that says that she is lonely and wants someone like her for a friend, in the middle of the book they time travel back to the dinosaurs to find a dinosaur that looks like her, and finally at the end of the book they travel back and find a friend for Nessie that is in the same time as her.
All in all I really enjoyed this book and I hope others will to. I believe this book should be for all ages above 2, even the ones who can not read because it is pretty funny and simple.