We visited my parents today and I persuaded my mum to get the rest of the Lego down from the attic and to see if there were any instruction booklets as well. There were. By no means all the booklets have been kept, mainly the space themed ones, it seems, which may reflect my brother's interest, but enough to make me dance a little for joy (well, internally).
The lass and I spent the afternoon happily sorting through just a couple of the boxes, and I managed to find parts enough to build one small set according to instructions, 6822: Space Digger. According to Brickset it's from 1981, which would make it likely to be one of mine, as that is the year my brother was born, so he would not have been into Legos yet…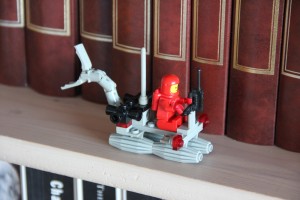 The lass thought it was really cool, which is nice, perhaps that means I get to dig around for parts for some of the other sets next time we visit.