In honour of International Women's Day, let me show you a little something that happened on Twitter.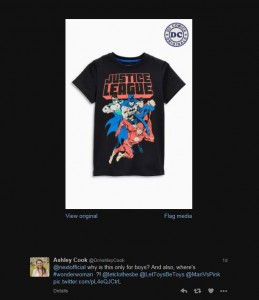 @DrAshleyCook asked @NextOfficial: "why is this only for boys? And also, where's #wonderwoman

  ?! " (link to tweet)
Next, in their wisdom, answered over two tweets (tweet 1, tweet 2): "Hi there are many members of the Justice League not included on this tee…" "These 4 went best with the space we had . Sorry if this has caused you any offence."
Note the fake apology.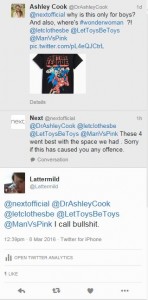 Which is wrong on so many levels. 1. It doesn't answer the first question: Why is this only for boys? 2. So the four who went best with the space just happened to be male? 3. Actually, all design wisdom suggests that any group should consist of an odd number of things to be most pleasing to the eye.
So I call bullshit.