We have an addition in the office: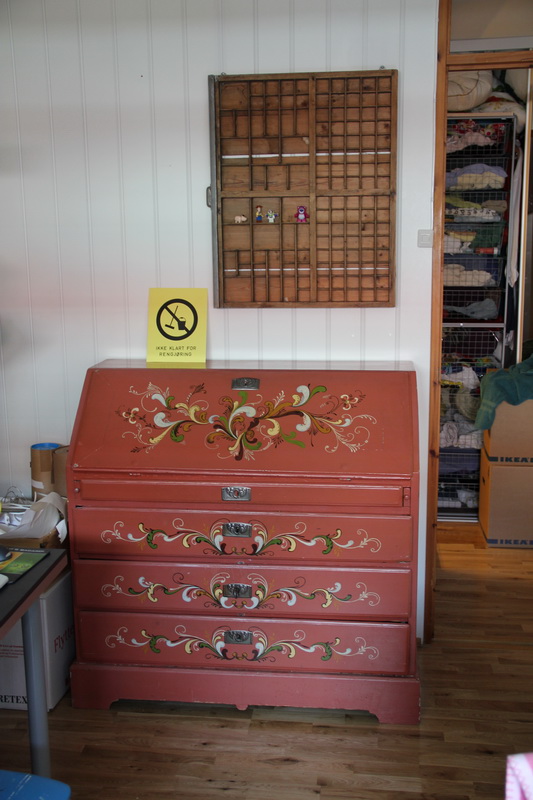 This desk has been in my parents' house for ages. It used to be in the dining room while we lived in Hamar, and lately my father has been using it for his laptop when working at home. I remember that we got it from someone in  the family way back when, but I can't remember who, or why, or exactly when that was. I need to get some details from my father, I guess.
However, it is old enough. The colour is rendered pretty accurately in these pictures. It's not really practical, which is why my father didn't want it anymore. I don't really have any plans for using it yet. In fact, I was all set to store it in the basement for the time being, when the husband suggested we might as well have it upstairs.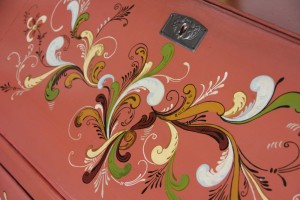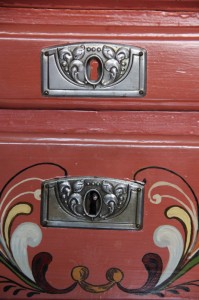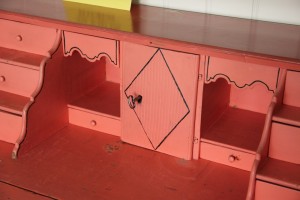 So. It's not practical. The ground colour is – well – hideous. And I can't really paint it, since I want to keep the rosemaling, even if it's (probably) not the most impressive example. Still, it's got history and it holds memories for me personally. It stays.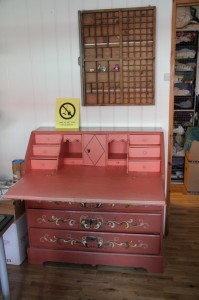 Note the yellow poster, by the way. My mom left a few bits and bobs in one of the drawers, mainly scrap paper and such, thinking the lass and I might find use for it in crafting projects. Among them was this poster. It says: "Not ready for cleaning." I threatened to get it laminated and hang it on the front door any time my mother or my mother-in-law comes to visit…
To fit the writing desk, we had to move a tall chest of drawers (which were not meant to stay in this room anyway), and there was suddenly space to hang my type case. I found another one recently, which turned out to be perfect for displaying regular size minifigs, but not so good for the Toy Story characters I recently aquired.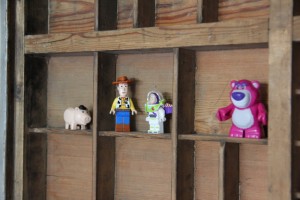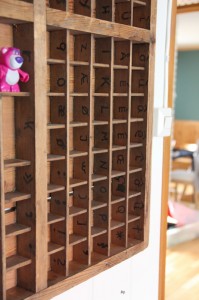 Which gave me the idea that perhaps this desk would be the perfect Lego-building site. We'll see.