Well, perhaps. Though I'd have said the thought of turning forty in just under a month doesn't bother me, perhaps what I am about to say contradicts that, perhaps this is my midlife crisis.
I have, of course, mentioned Lego before. I even have a category for it, though there are not that many entries. That might be about to change, if I can keep the blogging momentum up.
The lass is turning into quite the builder, following instructions she builds models that are marked 8+ or 10+ with hardly any problems. Independently she builds quirky models that have a "well, I see where you're going and your basic idea is good but you may need some practise on the execution part" quality. She has a desk in her room which is covered mostly in Lego Friends sets but supplemented with other Legos and some Playmo and a random play house, a flea market find. Under the desk is a small table where the TMNT Legos live, a reasonably accurate representation of the sewers.
For myself I have accumulated a few sets, giving in to temptation when at a Lego store or when there's been a sale (we've had a few rounds of 30-50 %, and it's hard to avoid buying something at that price). I am in the process of registering everything I have at Brickset.com, to get an overview, and to create a wishlist in the same place. So far my purchases have been sort of random, the only thing I've collected in an organised fashion is the winter village sets which we've been using as a sort of alternative (non-religious, obviously) nativity set – something to bring out every year in December. Now, however, I have decided on a theme and will be collecting towards a more defined goal (though I am sure I will not be able to resist the odd impulse purchase). I may even sell or trade a couple of the sets I have which don't fit.
So, the plan:
Part 1: Keep collecting the Winter Village.
Part 2: Keep buying minifigs in the collectors series, partly to collect, partly to get a wide variety of accessories and eventually to try my hand at minifig customisation.
Part 3: Collect towards a larger set-up of ships and buildings and paraphernalia that will represent the 1800-1810 era. The goal is to eventually create a village that could represent Shelmerston from the Aubrey/Maturin series by Patrick O'Brian, as well as the corresponding ships and other locations from the books. My timing is dreadful, since the most useful Lego theme – Pirates – has been dormant since 2010, but I plan on buying things from other themes that will work, or that will work with minor or major tweaks, and eventually I will start building MOCs.
For the past two years we've visited an exhibition by the Norwegian AFOL-club Brikkelauget, called På kloss hold, held in Trondheim in April. This year I'm taking it a step further and have (finally) become a member of Brikkelauget and have registered to participate at the members-only part of the exhibition weekend, as well as volunteering some models for the exhibition itself.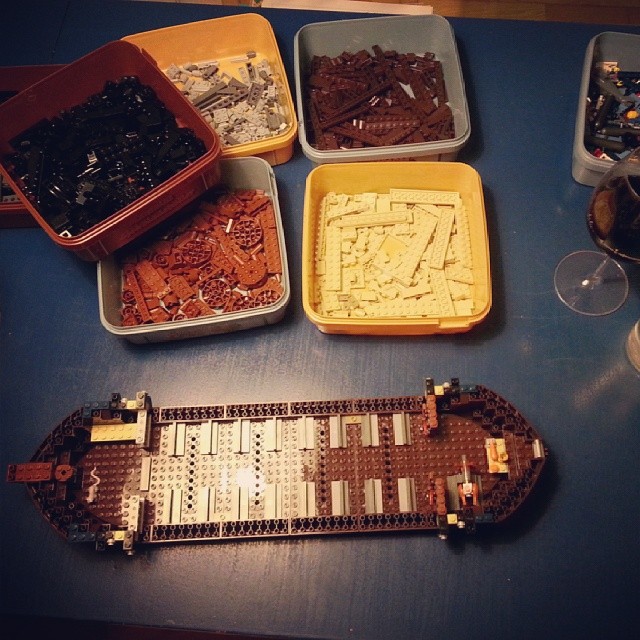 Currently I am enjoying piecing together the Imperial Flagship (10210-1) which I had the foresight to purchase when it was released in 2010. I haven't built it before simply because I've had no room to exhibit it once done. Now it will come to På kloss hold, but I have also planned a shelf for it in the office/guest room/Lego room.