I've taken pictures of these squares before, but I seem not to have blogged them. Anyway, I've mounted a blanket, and started on edging, but ran out of yarn.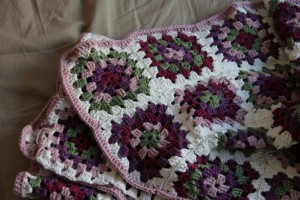 It's annoying, because I first bought this yarn at Panduro in Charlottenberg, figuring I could always get more later as there are Panduro outlets in Trondheim and Oslo. However, it turns out that none of the other outlets actually stock this – it's organic cotton. I've already had to buy more, and the first attempt to get it from the webshop was only partly successful, as they – in their wisdom – do not refer to the colour codes printed on the yarn tags, just to names. So I ended up with the wrong shade of white in that first order. Shortly after, I had the chance to stop by at Charlottenberg again, and stocked up on white, so I could finish the squares. I was hoping I had just enough left now to finish one round of edging in each colour, but alas.
So it's sitting on a shelf in the office waiting for me to either order more from the webshop or stop by Charlottenberg again – a possibility in July. We'll see.