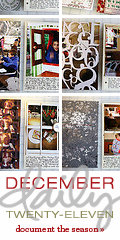 I've almost done December Daily for two years now. This year I think I may actually do it, since I've started putting a foundation together, which is much further than I've ever gotten before. I'm trying to mostly use stash I already have.
I'm a Journal Your Christmas alumni, so I'll be getting prompts all though December, which is useful. I never actually DID the journalling, but I purchased the class in 2009, so now I get the prompts every year. Isn't that nice? I'm thinking it will be possible to use ideas from that for the days when there's little or nothing worth documenting happening (and since we both work full-time I know there will be days where all we have time for is the bare neccessities to get us through the day – I'll document at least one day like that, but it might get repetitive if every weekday Monday to Friday goes: "Had breakfast, went to work, worked, went home, had dinner, put the lass to bed, zonked out on the couch, went to bed"). Shimelle's prompts are great and though they are meant for scrapbookers you could also just use any old notebook and write, if that's what you want. The focus is on telling the story, and not just of THIS Christmas, but of your childhood Christmasses and any other stories you want to tell. The class is highly recommended.
So far what I've assembled is an album, purchased with the intention of doing a Week in the Life, and never used for that purpose. I still want to do Week in the Life, but December is soon here, and the album is red. So there. It's a We R Memory Keepers three ring album for 8,5×11 page protectors. I had a few page proectors to fit, but I've put in an order for some more, one of the purchases it's hard to get around.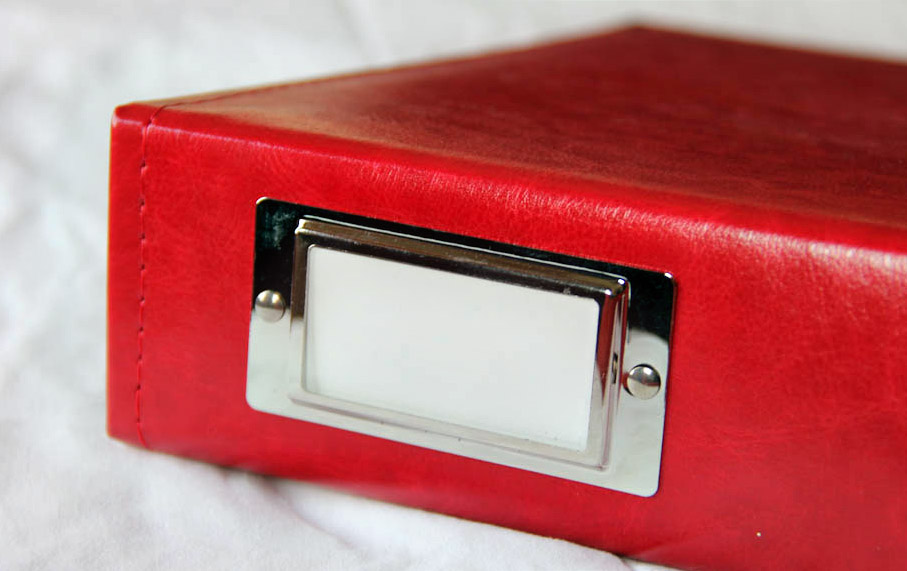 I've also purchased Ali's overlays and templates. The latter are really great, and I can see myself playing around with them and using them for other projects, too (I tend to resize and otherwise modify templates all the time). Since my pages are going to be rather larger than Ali's 6×8,5 I had to resize the overlays, but they came out fine. With a little trial and error I settled on resizing to 8×11, which alters the overlay's proportions slightly, but not so much as to be noticeable. As our printer tends to default to A4 rather than Letter, this meant I could print with the minimum amount of adjustment. I also recoloured to a darkish red. I managed to make do with the cardstock I already had by mixing in some offwhite with the whites (pale gray, pale beige and pale purple).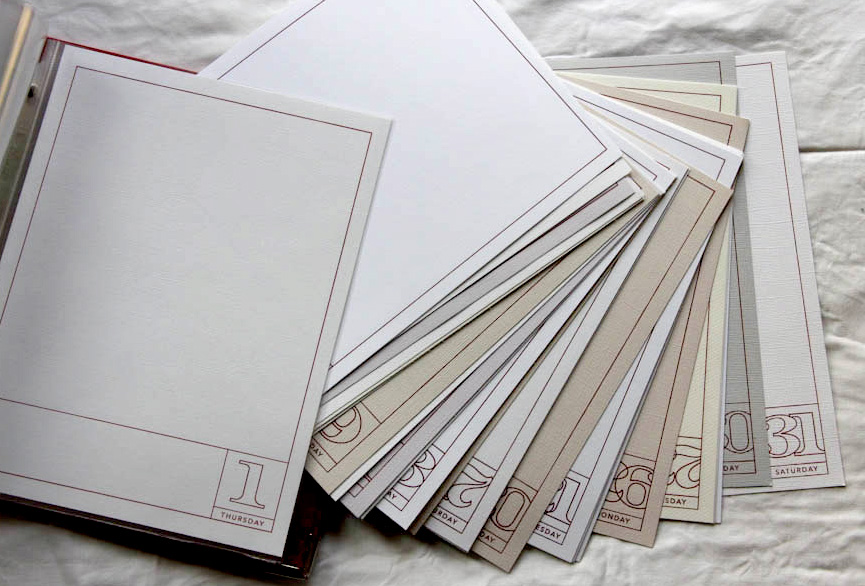 I've also gone through my stash and found some things that might serve as embellishments.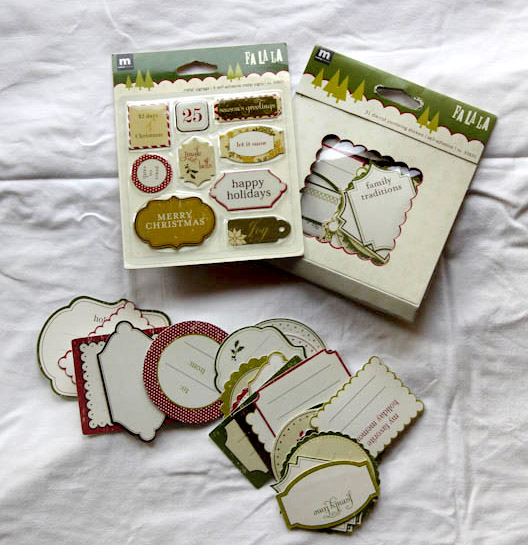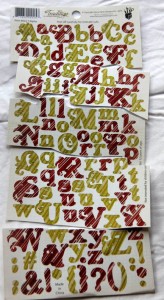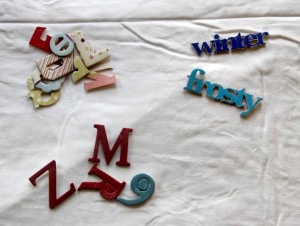 I've got a lot more chipboard letters, though not much of it is in the correct colours. The "winter" and "frosty" are from a lot I purchased off a member of scrapping.no a while back, so I have no idea where they're from, but they are perfect. Well, except for the colour, but the nice thing about chipboard is it's easy to paint.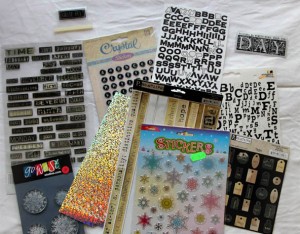 I also dug out some patterned papers and picked out the ones that were both Christmassy and that fit the colour scheme.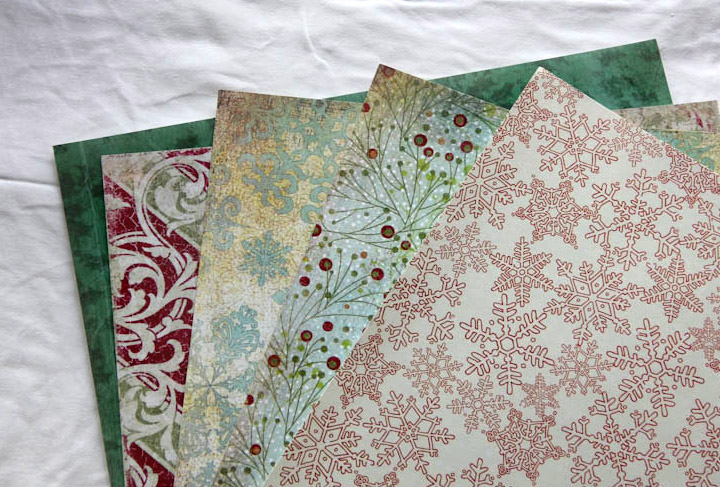 From left: Taylor "Ever Green" and Show-Offs "Deck the halls" from Daisy D's, Fruitcake "Berry Branch" and "Snowed In" from Basic Gray and Holiday Collection "Alpine Snow Lace" from KI Memories. The Basic Gray ones have a near solid colour matching back, I might use those for some days. I've since cut strips to fit the bottom rectangle of the overlays from these, I'll pick whichever goes with my pictures and other embellishments on the specific days.
I've got some stuff coming from Bananafish that will definitely be used, too. I purchased some supplies for Project Life from her just after the summer and fell head over heels in love with the wonderful little bits and pieces when they arrived, so I ordered more, including some Christmassy items, which will come in handy.
I really love what Ali is doing with the Hambly transparencies, but I think I'll make do with making my own somehow (I've got some nice thick ones meant for laser copiers). I also like the baseball card size page protectors used to hold stars and other little embellishments, and since I have few of these I may be doing something similar. We'll see.
For inspiration: