Når vi flyttet inn i leiligheten vår i 2010 hadde vi bare to uker fra overtakelse til vi skulle være ute av den gamle leiligheten, derfor ble bare det aller nødvendigste av maling gjort. Etterpå har vi fikset noen flere vegger (fjernet brystningspanel og malt hvitt). Vindusveggen i stua var dekket av… treverk når vi flyttet inn. Radiatorene var bygd inn i kasser og den biten av vegg som ikke er dekket av vindu var dekket av trespiler, litt som på vinduslemmer, men altså spikret fast i veggen. På et eller annet tidspunkt fikk jeg nok og rev det hele ned. Vel og bra, men så skulle jeg jo liksom male veggen, og det… tok sin tid. I fjor (eller var det forfjor) sparklet jeg det som var av spikerhull og slikt, og hadde store intensjoner om å male også, men så kom vel livet i veien. Så sånn har det sett ut since forever: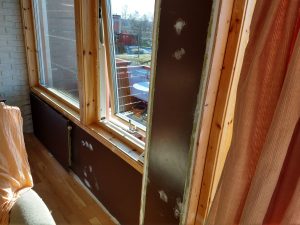 Vakkert, eller hva? På toppen av det hele: Når vi flyttet inn hang vi opp gardinene vi hadde med oss fra den gamle leiligheten. Sånn inntil videre, liksom. De to lange seksjonene (som hadde vært tilpasset verandadøra) var akkurat for lange, så de sopte i gulvet. Og opphenget var ikke akkurat ideelt, vi arvet kirsch-skinnene (type U) med leiligheten, men på dem var glidere med klemmer (slike) og det går jo for all del an å henge gardiner i de, men når noen drar litt hardt i gardina rykkes den gjerne ut av en klemme eller to, så gardinene hang litt på snei til stadighet. Og det har de altså gjort i ti år. Ting tar tid.
Men nå er både vegg og vinduskarmer blitt hvite. Og det er så lyst og deilig at jeg er nesten ekstatisk. Det var ikke det minste fristende å henge opp igjen de gamle gardinene (med eller uten fikset oppheng og lengde). Så jeg tok en tur på stofflageret, og fant noen gardinlengder fra IKEA. Og noen meter rettsøm senere har vi lyse gardiner i sommer- (ok, da, vår-) sola.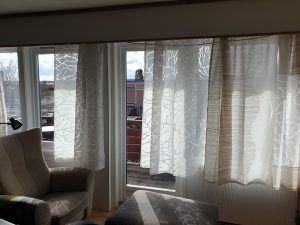 Jeg hadde tre lengder av stoffet med kvistmønster og to av det med striper. Sistnevnte ble kjøpt med tanke på et annet rom for noen år siden, men aldri brukt. Kvistene hadde vi faktisk et sett sommergardiner av i den gamle leiligheten, men de ble hengende igjen til glede (tror jeg) for neste eier. Det er hele tre skinner montert der oppe bak gardinbrettet, så jeg har hengt gardinene i to lag. Og for å utnytte stoffet og få nok gardiner skjøtet jeg de to typene sammen i to lengder også, og det ble i grunn ganske stilig synes jeg selv.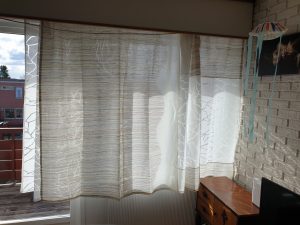 Jeg har sydd rynkebånd på gardinene og hengt dem opp med "rynkebåndskrok", eller "sånne gardinkroker som ser ut som flatklemte alfakrøller" som jeg beskrev det når jeg skulle spørre etter dem på Sommer (de hadde ikke, forøvrig, jeg kjøpte bånd der men måtte over gata til Wiig for å få kjøpt kroker).
Jeg er jo ikke så god til å planlegge, for jeg dro til byen for å kjøpe bånd og kroker uten å ha målt bredden på gardinene. Eh, gi meg ti meter bånd, sa jeg, det holder sikkert i massevis. Holdt gjorde det, men ikke akkurat i massevis…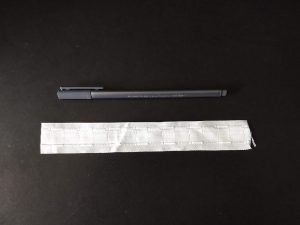 Det er noe som heter "thread chicken", det spiller jeg til stadighet. Rynkebåndschicken var nytt for meg.