To start with, let me just say that though I've been craving a dedicated crafting space for years, I had no idea how ridiculously happy it would make me. I've been sewing today – in my new Dedicated Crafting Space – and every so often I would pause and just… savour the feeling. I'm either mad or just counting my blessings.
Anyway, this is what it looks like when I'm in the middle of something: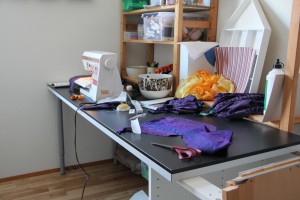 Furnishingwise I've mostly been working on details today, figuring out what goes where on the shelves, hanging another picture and so on. Some details, therefore: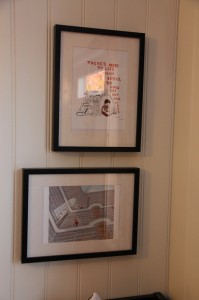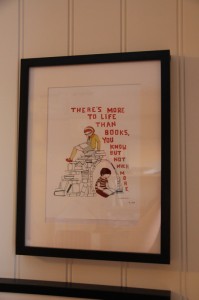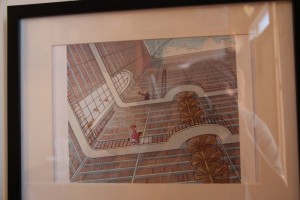 The top print is from The Black Apple on Etsy, and was purchased about a year ago, I think. I'm thrilled to finally have it up on the wall. It's been languishing in its shipping envelope since it arrived, as I really had no place to hang it, but I just had to have it anyway. The quote, by the way, is attributed to Morrisey. The bottom one is also from Etsy, from Industrial Fairytale, and arrived only last week – and it's still available, so if you want one for yourself, go get it!
I'm liking the way this is working out so far, the plan is still to fill the wall with book-related prints and such. I'm expecting to stick to black frames to create some sense of order, and I'm also expecting to take my time filling the space, waiting to find pieces that I really love instead of falling for the temptation to buy things just to fill it. I also know I have several things in boxes and such that might work.
The frames are Ribba from IKEA, and the one problem I've discovered so far is that the passepartout in these are for A4, whereas the prints, naturally, are American letter size. If you click one the images to get a larger version you can probably see that there is a gap on either side of the print. I'm going to have to get new passepartouts done, in other words, but in the meantime this will have to do. Having them on the wall makes me happy, gap or not.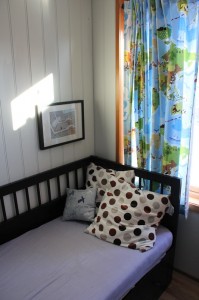 Another detail to note is the lovely little pillow, which is from Syko. I've been a faithful reader of her blog for quite some time, so I had to have one of her creations – I also bought her book, Scandinavian Stitches, which is quite wondeful.
The curtains, by the way, are moving into the lass' room when we get a rod up in there, and I'm making new ones for this room. If she ever "grows out of them" though, they might well be moving back, since I'm still as much in love with them as I was when I bought them before she was born.