We followed up the Oslo Whiskyfestival with a short cruise to Fredrikshavn, and with 12 hours ashore, we decided to take the bus down to Ålborg instead of hanging around Fredrikshavn. In Ålborg I had noted down a couple of shops I wanted to visit, and one of them was Tiger. They had a lot of almost interesting things, but very few interesting enough to tempt me, but I did find some more wall hooks, or coat hangers or whatever you'd call them. Blatant rip-offs, obviously, and normally I don't hold with buying designer rip-offs, but what with the problems I've been having finding any hooks I like and that actually work, in that it's possible to hang something on them and expect that it stays there, I thought I'd go for them. Also, they were only 30 DKR each. Later the same day I saw some others, also quite blatantly rip-offs, more or less identical, at 6 times that. I mean, if you're buying rip-offs, why pay more than you have to?
Anyway, they are up now. One has replaced the very cute but completely useless (in that it would only hold two garments, and not very bulky ones) coat hanger from IKEA that we put up in the hall for the lass' clothes: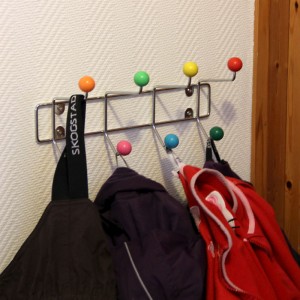 The other one has been added to the bedroom wall, where some odds and ends have also come up: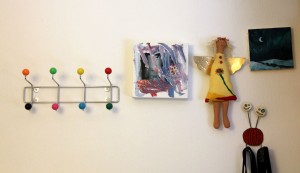 The crooked (my fault, I haste to add) picture is a present from Tonbel, the angel from another good friend and the messy artwork is the lass' "creation", with rather a lot of help from the daycare staff.