So the bed is in the master bedroom, we've been sleeping in there since this weekend, in fact. We've also put up a couple of shelves on either side of the window, to hold some of my stuff (it's mostly my stuff), and we're considering what to do in front of the window where there is room for more storage – or something.
Along the wall at the foot of the bed we'd sort of hoped we could fit narrow bookshelves, but I've nixed the idea as it would then be impossible to walk along there and I'm tired of climbing over half the bed to get in.
So the plan just now is plenty of hooks and other things to hang things on. Practical, right? Well, practical can be combined with decorative, so I'm going to insist we put a little effort into finding attractive hooks. I'd like a nice variety over the length of the space, actually, preferably at different heights, too, to make it look a little interesting. Come to think of it, there will be room for pictures and other wall decorations over the hooks, too, we have a few things we need to find room for, so this is a good thing.
So far I've put one thing up, this hook that I purchased last year at a Christmas market: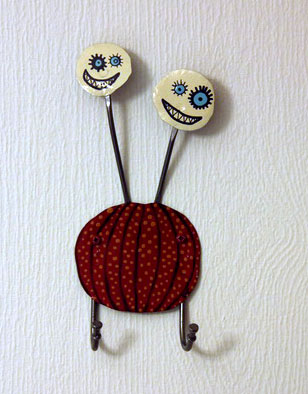 Isn't it just perfect? It's designed by Lillian Tørlen, and I've found her designs – apropriately called Hanging About – on the web before. Doing a quick search now I see she's moved to selling through Epla, "the Norwegian Etsy", and her shop is also called Hanging About.
As you can see, it's the perfect place to hang some of my small bags: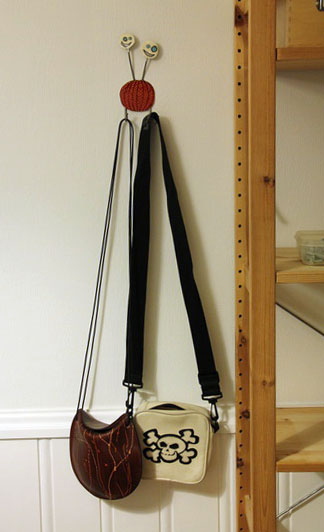 Making a mental note to try to make it to the Christmas market in question this year as well, I could always shop through Epla, but it's more fun in person – if she's there, that is.
Edited: It suddenly occurred to me to check the tag, and of course there is a Hanging About website: www.hanging-about.com. There's even a list of shops that stock them, and there's one in Trondheim, juhu.