Well, it is, you know. At least if you chose the right design.
Since I've been home sick for the last couple of days, I needed to find something to keep my hands moderately busy while watching crap tv (all my brain could handle).
The only craft supplies I had any idea where were were the cross-stitch things.
Partly because I've had this design in mind for a while, but I haven't had time to sit down and work out a pattern for it.
I'm not going to claim responsibility for the idea, though, more pithy phrases have been showing up in cross-stitch samplers for a few years.
And this specific phrase isn't mine either, though I haven't seen it in cross-stitch before.
I do, however, have it on a bumper sticker somewhere, purchased fåglarna knows where.
This was quite quick, once I got to it. Perhaps I should make a few for Christmas?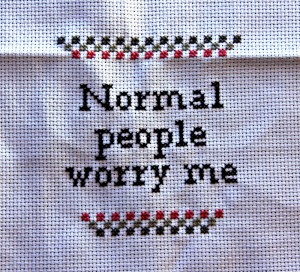 Now I need to find a frame.