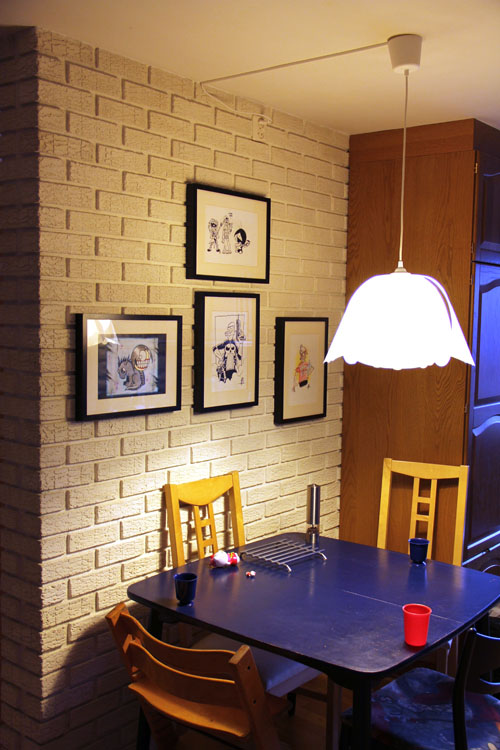 I got some art up on the wall in the kitchen. This wall is concrete and h*ll to make new holes in (we had to to anchor the whisky cupboards on the other side), so I just used the nails the previous owners had left. It works, though I would have rearranged the pictures (and lined up better) if I could do so easily. As it is, I suspect this is how it will remain.
The artwork is by various Trondheim-based comic book writers/artists (most by Mads Eriksen), and was purchased a few years back at an event in aid of a local comic showcase magazine. The husband had to work quite hard to convince me to stop at four, as they were (I thought) ridiculously cheap. The two in colour went for 300 kr, as far as I can remember, with the b&w ones going for less. Bargain!
The table and the one chair you can't really see are inherited. My brother-in-law and his fiance had it before, and they painted it this dark blue colour, which is quite nice. However, especially on the table top it is quite worn by now. Also, the set (we had five more chairs, after some breaks I think we have four left) are originally teak (or at least teak-coloured), and I've been meaning to try paint stripper on one chair since we got them five years ago. Perhaps I'll get around to it someday… They badly need recovering, anyway, so it would make sense to do both.