I have to use one of these: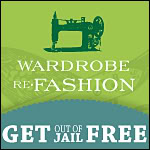 Because I purchased two dresses this summer. One for wearing to a wedding and one because I found that first, and really liked it, so caved, but I couldn't wear it to the wedding because it was black. So. Both dresses were on sale, though I'm not sure I really think that helps. (Well, it helps my finances, obviously, but not the "do not buy new clothes" angle.)
But the dress was sleeveless and, well, Scandinavian summers can be a bit unpredictable, so I decided I needed a bolero. And I had two of these tops in my wardrobe, one grey and one purple.
As they were too short for me in any case, and what do I need two pretty much identical tops for anyway, I chopped and spliced a bit on the purple one and got a bolero.
From the front:
And the back:
What I did, if you're interested, was to cut off the frilly bit from the bottom, then cut a reasonable bolero shaped bottom hem free hand then sew the frilly bit back on. Very simple, but very effective, and frankly it looks much better on me as a bolero than it ever did as a top.