I had a bit of time this morning while the lass was playing happily on her own, so I tore down some panelling along the wall running from the kitchen to the living room. We're planning to put up the "magic" wall-smoothening wallpaper here, and paint it white, before hiding the whole thing with shallow bookshelves. I wonder, of course, whether we shoud dispense with the wallpaper and the paint and just put the shelves up, but figure we might as well do the job properly.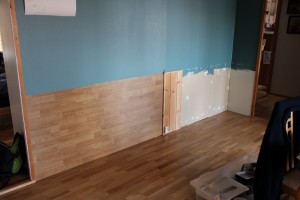 Also, note the use of floorboards to construct the wall. Interesting choice. Considering the price of floorboards vs. mdf I know what I'd have chosen, but whatever.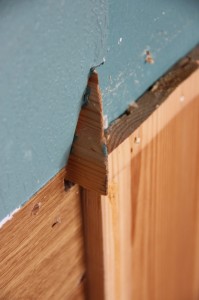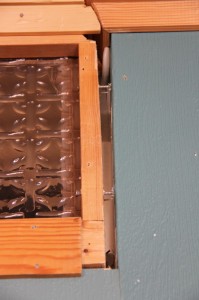 While we're at it we should probably substitute those glass inserts with something else. Like, I dunno, wall? That seems slightly complicated, though. It'd be easy, of course, to just slot some pieces of mdf or something in over the glass and paper over that. It would look ok from the living room side, but probably quite nutty from the bedroom. On the other hand, who cares what it looks like from the bedroom?
I'll think about it.