Det er hva jeg er.
Den godeste Namaste har slått sammen flere blogawards til en ny alt-inkluderende som heter Queen of fucking everything, og jeg er på mottakerlista. Det passer jo fint, for det er nemlig sånn at jeg har en magnet hjemme som ser slik ut: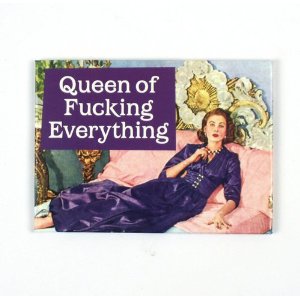 Det var en ting om meg selv som dere sikkert ikke visste fra før. En annen av magnetene mine, og det tror jeg er favoritten, bærer teksten: "Well, aren't you just a ray of fucking sunshine".
Jeg vurderer i grunnen teksten som kandidat for mitt neste geriljabroderiprosjekt.
Man skal vel egentlig skrive litt flere fakta om seg selv i forbindelse med slike utmerkelser, men jeg har skrevet så mange sånne innlegg før at jeg har gått litt tom for ting å si – i det minste trenger jeg "prompts". Til glede for nye lesere har jeg derfor heller gravd litt i arkivet:
100 things (som også har en lenke til en enda eldre liste som ikke engang er i bloggformat)
På den annen side begynner det egentlig å bli på tide å skrive en ny 100 things-liste. Enkelte punkter er utdaterte. Noe som er ganske beroligende, det betyr at det har skjedd noe de siste 8 årene…
Og når det gjelder hvem jeg skal sende utmerkelsen videre til har jeg en helt opplagt kandidat: antibloggeren.
Velkommen til awardenes verden, Magnhild…