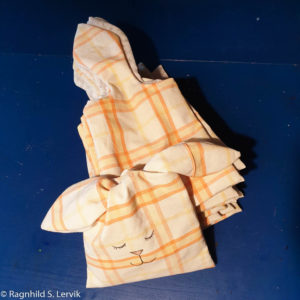 Siden 2011 har vi hatt som fast tradisjon å fylle påskeegg med smågodt til alle (førskole)lærerene til ungene og dele ut siste dagen før påskeferien. I år ble det jo ikke sånn, kan du si. Men nå ligger det jo an til en gradvis åpning, yngstemann skal tilbake på skolen om en uke, og nettet (i alle fall min krok av det) har i ukesvis flommet over av "kaninposer", og selv om det jo opplagt er ment som alternativ til påskeegg, så føles de ikke… like påskete? Så jeg gravde fram noen meter med egnet stoff fra lageret, fant et mønster på nett, sydde en test og gikk deretter i masseproduseringsmodus.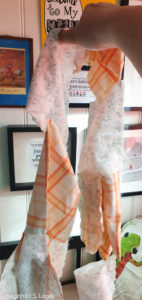 Jeg fulgte mønster og sømebskrivelse fra Creativ Company med en endring, jeg klippet utside og fór i en del hver, så slapp jeg sømmen i bunnen. 21 poser fikk jeg ut av disse to stoffbitene. Det er litt lite, så jeg får ta en runde til i kjelleren og ved maskina.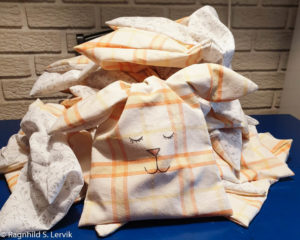 På testposen har jeg tegnet ansikt med tekstiltusj. Resten tenkte jeg ungene skulle få tegne på sjøl, og så må vi vel lage/skrive noen små kort med navn og vår-hilsen på. Posene trenger også en runde med strykejernet, men siden tusjen skal fikseres slår jeg to fluer i en smekk og presser ut sømmer samtidig da.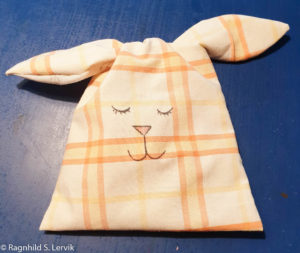 Jeg tenker at sånn som situasjonen er er smågodt lite aktuelt, så vi får finne noe godteri som er innpakket i år.
Jeg har forresten opprettet en egen instagramkonto for sømbilder (eller "fibercrafts" blir det nok). Jeg prøver å holde @Lattermild til å handle hovedsakelig om bøker, så da oppsto @lattermild_syr. Følg meg gjerne, og tips meg gjerne om andre jeg burde følge.