I've been drooling over instant cameras for some time. I was on the verge of buying a polaroid camera off ebay when it was announced that film would no longer be produced and I decided against it. Then the Fuji Instax appeared and started making the rounds in the blogosphere. It's ages since I decided to buy one, I just haven't gotten round to it, mainly because it's not available in Norway (don't ask me why, I have no idea).
So when we were in Dublin last weekend, I knew I had to grab my chance. I'd found one retailer on the net that appeared to stock it, so off to John Gunn we went. I'd planned on getting the mini, but they were out, and also claimed that it was being discontinued. I don't know whether that is true or not, but it doesn't matter much, I got the Instax 200 instead, and I'm quite happy with that.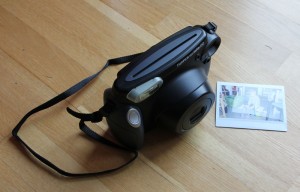 The pictures are about twice the size as the ones from the mini, which is a plus in most situations, and I fell badly for the look. The woman who helped me in the shop had one herself and she said it always gets a laugh when she brings it out. I can imagine, it's humongous and also looks like a toy camera, and she was a petite lady of at least 50 years of age. "They laugh and then they steal your prints," she claimed, and I can well belive it.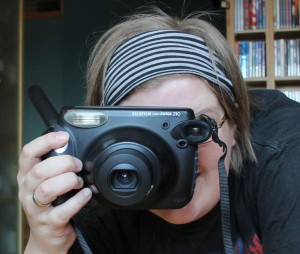 I haven't really had time to play much with it yet, but I did buy quite a lot of film, so I'm all set. This weekend, perhaps?