Before Christmas, on the 16th to be precise, I realised that there was to be a "nissefest" at the lass' daycare the next day and that the only red garment she had was a pair of red tights, and those technically outgrown to boot.
A note on the concept "nisse". Well, a Norwegian word of the day, if you will. Nisse is a noun, and can mean Santa Claus, but is as likely to mean something akin to gnome. That is, in the Scandinavian tradition, the nisse would live on the farm, unseen, and if treated well would care for animals and people, but if treated badly could really make trouble. Even those nisse that were treated well were fond of pranks, though. One of the things you should absolutely on no account fail to do if you wanted to keep your nisse happy was to leave out a portion of rice porridge on Christmas eve. These nisse are traditionally depicted with red hats, but normally wear a greyish knitted sweather and felted wool pants rather than the whole red get-up.
So when daycare have a "nissefest" the idea is that the kids dress up as little nisse, but they will also, most likely receive a visit from Santa Claus, so it's all rather mixed up. Anyway, some sort of appropriate dress was expected, and I didn't even have any idea where our red Christmas hats are (we have at least two, somewhere).
While searching for the hats, though, I found a long sleeved t-shirt that the husband got to wear at work last Christmas. Plenty of material in that, I thought and got to it: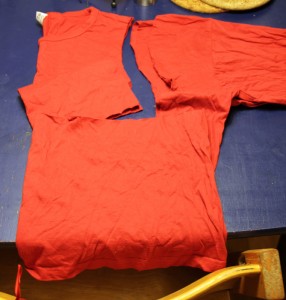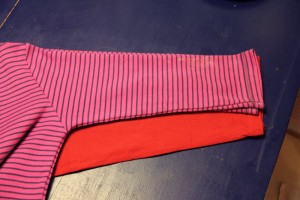 Notice with the arm that I'm reusing the hem at the bottom of the original shirt, I also reused the neckline rib-finish in the neck of the dress. The less seams I have to sew, the better, especially when it's a last minute rescue mission sort of project.
The result was pretty good, even if I do say so myself: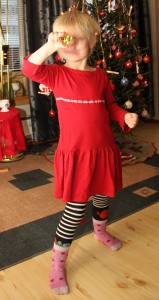 The skirt is made from the bottom of the shirt, which I simply pinned on in four places with the same amount of fabric between them and pleated while sewing (also stretching the top part to create some natural pleats). The ribbon is there to hide the name om my husband's employers which was printed on the front. On the back is printed "Merry Christmas" in quite large letters, which I left as is, it's supposed to be a Christmas dress, after all.