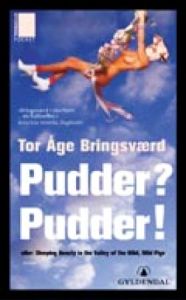 Har såvidt begynt på Pudder? Pudder! eller: Sleeping Beauty in the Valley of the Wild, Wild Pigs av Tor Åge Bringsværd i dag. Så langt er den mest forvirrende, men det er ikke så uvanlig fra den kanten, det blir nok bedre.
Da vi hadde passert Holmenkollen tre ganger, gikk jeg av. Jeg mener: Det er grenser for hvor mange ganger det er morsomt å se en hoppbakke. Jeg mener: Uansett hvor gammel den er. Og naturligvis ville det vært morsomt om det hadde vært vinter – i hvert fall én av gangene – men du kan ikke få med deg alt heller.
(s. 6)
Flere smakebiter finner du hos Flukten fra virkeligheten.